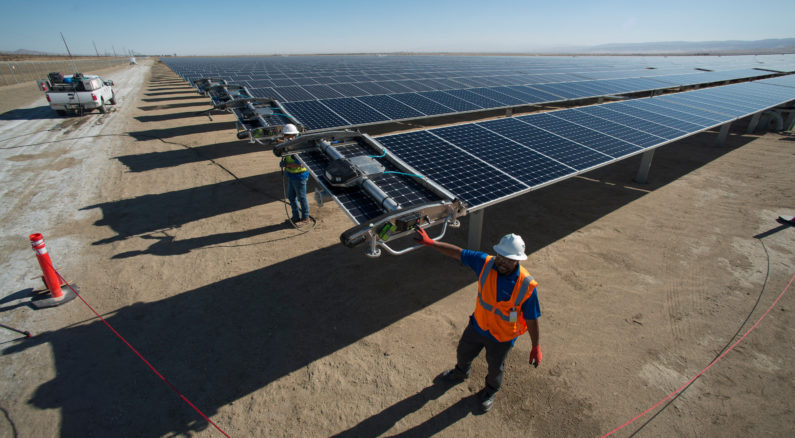 8Point3 Energy Partners the yieldco of First Solar and SunPower said it did not plan to acquire further PV power plant projects from its parent companies in the first half of 2017, after recent acquisitions that took its portfolio to 942MW.
The yieldco also noted that First Solar and SunPower has proposed to remove the 100MW El Pelicano project and the 179MW Switch Station project from the right of first offer (ROFO) portfolio as the partnership would likely not acquire the projects during its 2017 fiscal year.
Both projects are expected to be completed and grid connected in mid-2017. Management at 8point3 indicated that under its current revenue and planned CAFD (Cash Available for Distribution) to investors the current portfolio was sufficient to meet distribution requirements of 12%.
"We continued to benefit from our high-quality solar portfolio as we met or exceeded most key financial metrics for the quarter while increasing our distribution rate for the sixth quarter in a row," said Chuck Boynton, 8point3 Energy Partners CEO. "As of the end of November, our portfolio consisted of interests in 642-megawatts (MW) of U.S. solar generating assets including the acquisition of SunPower's 49 percent minority interest in its 102-MW Henrietta project that we completed during the quarter. Also, we were pleased to close the acquisition of First Solar's 34 percent minority interest in its 300-MW Stateline project on December 1, 2016 which brings our total portfolio to interests in 942-MW of assets as of today. The Henrietta and Stateline projects are expected to generate approximately $11 million and $32 million in annual cash distributions respectively and both have 20 year contract lives."
Financial results
8point3 reported fourth fiscal quarter ended November 30, 2016 that generated revenue of US$14.5 million, net income of US$4.2 million, adjusted EBITDA of US$18.3 million and cash available for distribution (CAFD) of US$20.4 million.
The yieldco guided first quarter 2017 revenue of US$9.3 million to US$9.8 million, with a net loss of US$6.4 million to US$5.6 million. EBITDA is expected to be in range of US$11.8 million to US$12.6 million and CAFD in the range of US$19.8 million to US$20.3 million.
Total fiscal year revenue was guided to be in the range of US$63.3 million to US$66.7 million with a net income of US$27.0 million to US$32.6 million

Adjusted EBITDA of US$106.5 million to US$113.1 million was also guided along with CAFD of US$91.5 million to US$101.0 million. The distribution growth rate is expected to be 12% for fiscal year 2017.