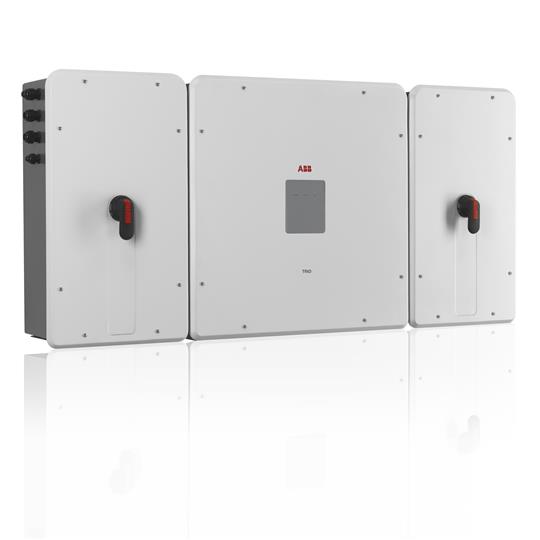 ABB's new TRIO-50 three-phase string inverter can be installed in virtually any location or in any orientation and enables shorter time to market for large commercial or small utility scale projects, according to the company. It has a landscape modular design to guarantee maximum flexibility, improve ease of installation and lower maintenance costs and can be installed by two people and no machinery.
Problem
Conventional electricity grids can face technical issues with high levels of PV system installations due to the bi-directional power flow. Three-phase string inverters can provide greater flexibility and ease of installation, compared to central inverters.
Solution
The TRIO-50.0 expands ABB's three-phase string inverter portfolio up to 50 kW. The TRIO-50 transformer-less inverter is specifically designed for decentralized commercial and industrial applications. TRIO-50.0 has a two-stage topology with lower minimum input voltage, meaning higher flexibility and energy production yield. The TRIO-50.0 is not just a power converter but also includes a complete string combiner and an AC wiring box with AC switch and overvoltage surge protection. With its ability to remain separately wired from the inverter module, maintenance is simplified as AC and DC connections can remain intact during plant and system maintenance. It combines the performance and price advantage of a central inverter with the flexibility and ease of installation of a string inverter.
Applications
Large decentralized PV systems for both commercial and utility applications.
Platform
The TRIO-50.0 features three compartments: a central part consisting of the inverter itself and two detachable lateral compartments, one for the DC connection upstream (toward the photovoltaic plant) and the other for the AC downstream (toward the grid). Mounting and dismantling are simplified by having the total weight divided over three separate units. The TRIO comes with the most complete wiring box configurations available including up to 16 DC inputs with fast connectors, monitored fuses, AC and DC switches and monitored type II AC and DC surge arresters.
Availability
September, 2016 onwards.