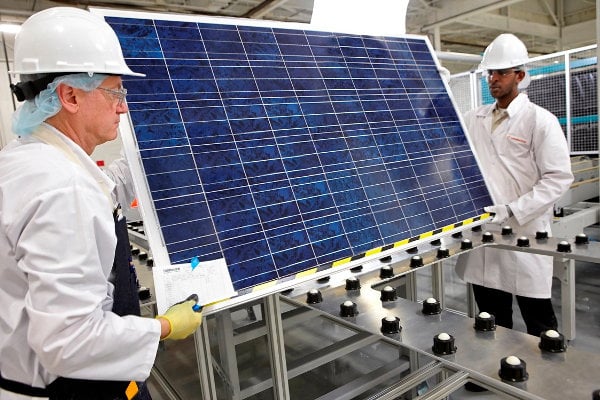 Policymakers are facing calls to take action to boost Europe's solar industry job numbers, which have been in decline since 2011.
Research published today by consultancy EY for trade body SolarPower Europe puts the number of solar jobs in Europe at 110,000, substantially down on the 2011 figure of 250,000.
Despite the drop, the report reveals Europe's solar sector still to be a significant job creator. And with the right help, it forecasts job numbers increasing agin to around 140,000 by the end of the decade.
"For Europe to reach the European Commission's ambition to be the number one in renewables we need to accelerate the deployment of solar considerably in the coming years," said SolarPower Europe's CEO James Watson.
"This will boost employment and wealth generation far beyond the forecasts in this study. The last study on jobs commissioned by SolarPower Europe in 2011 showed employment at more than 250,000 jobs at that time, the decrease since then has been accelerated through policy changes introduced in Europe during this period."
The report found that since 2011, as Europe's solar manufacturing industry has faced the squeeze from competitor nations such as China, its downstream sector has become increasingly important, accounting for 86% of the sector's jobs in 2014.
This trend is set to continue through to 2020, according to the report, with downstream jobs accounting for 89% of the 140,000 total expected in the sector by that time.
The report also examined the impact of European trade and regulatory policies on jobs, in particular the duties and minimum import price arrangement currently in place on Chinese products.
It assessed the likely impact should the MIP be allowed to expire within the next few days. The European Commission is currently considering whether or not to instigate an expiry review, which would mean the MIP stays in place for at least another 15 months.
Based on modelling of Germany and Italy, and the likely decrease in system costs that would result from the removal of the MIP, the report projected that over 54,000 additional jobs could be created, directly and indirectly.
And these jobs would be across the value chain, upstream as well as downstream, although downstream again would be the main beneficiary, the report found.
"These findings show that Europe can clearly benefit from an end to the trade measures on modules and cells," said SolarPower Europe CEO James Watson. "This would be good for the entire European solar value chain, creating more jobs and boosting the economy to support Europe in reaching its ambitious climate objectives, including to be the number one in renewables."
Watson added that the findings underlined the need for policymakers in Europe to take action more generally on the various regulatory, fiscal and market barriers preventing solar from realising its potential.
"To fully realise the great potential of solar in Europe, we need policy makers to remove all barriers for installers and investors – including regulatory uncertainty, unjustified taxes and an improvement to the current electricity market design."