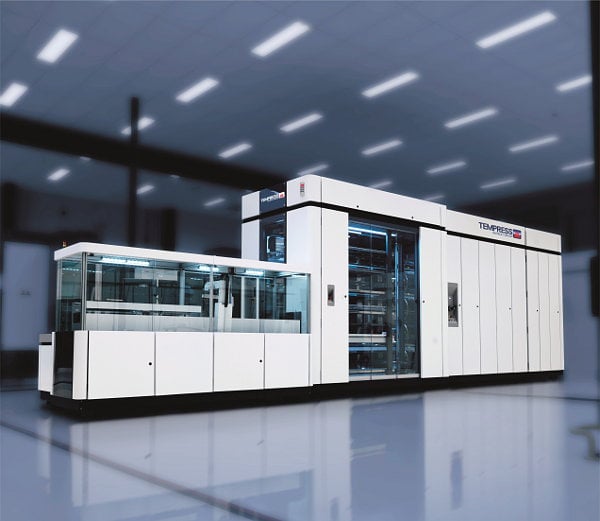 PV manufacturing equipment specialist Amtech Systems has reported a significant slump in solar related sales, order backlog and new orders in its fiscal fourth quarter.
Amtech reported group revenue in the fiscal fourth quarter of US$28.2 million, while solar segment revenue totalled US$12.8 million, down from US$37.5 million in the previous quarter.
Total backlog for solar segment orders stood at US$19.6 million at the end of September 2015, compared to US$32.4 million in the previous quarter. Backlog includes deferred revenue and customer orders that are expected to ship within the next 12 months.
Solar segment new orders were US$2.8 million, compared to US$13 million in the previous quarter.
The company had US$52.7 million in new orders booked in fiscal 2015, compared to around US$33 million in fiscal 2014, mirroring a recovery in solar capital spending seen building since last year.
Solar revenue for the fiscal full year was US$50.2 million, up from US$37.6 million in fiscal 2014.
Fokko Pentinga, chief executive officer of Amtech Systems said: "Although we experienced an anticipated lull in fourth quarter equipment orders, we are pleased to report a 79% increase in bookings from one year ago and robust quoting activity with both current and prospective customers. While the marketplace is being selective in their capital expenditure plans, investment in next generation, higher efficiency cell and module solutions is necessary to address interest in residential, commercial and utility-scale solar solutions by both private and public interest groups around the globe."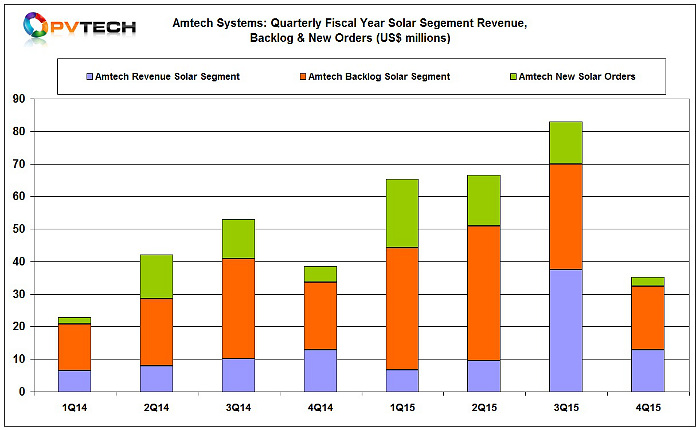 Guidance
Amtech said that it expected total group revenue for fiscal first quarter 2016 to be in the range of US$22 to US$24 million.
However, management highlighted in its earnings call that it believed solar manufacturing capacity and demand were closer to equilibrium than has been seen for more than four years and that stronger capital spending was expected in 2016, especially given the level of quotation activity the company was currently experiencing.
"We are in discussion with multiple prospective customers on some major technology turnkey projects, establishing complete cell production lines," noted Pentinga in the earnings call.
"In line with industry forecast, we expected second half of fiscal 2016 to be stronger than the first half. The March quarter is expected to be in line with normal seasonality, and therefore we currently expect strengths to be weighted in the later half of the year," added Pentinga
Seperately, Amtech was selected for a cooperative award, totalling almost US$1 million from the US Department of Energy to SunShot Initiative with focus on the advancement of c-Si solar cell technology, particularly in key specialised areas of doping and surface passivation technologies.