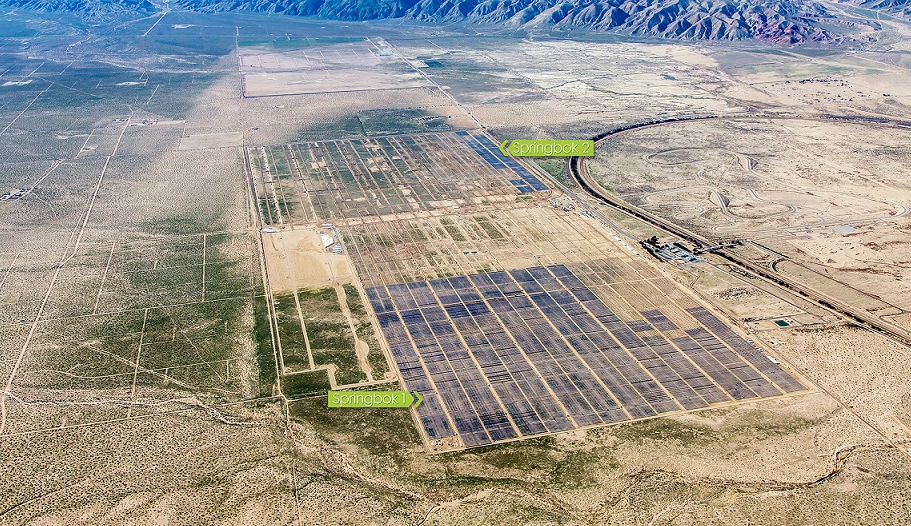 US solar developer 8minutenergy Renewables has started construction of its Springbok 2 solar farm in California with a tariff below that of most fossil fuel-based generation. The project will be combined with the neighbouring 137MW Springbok 1 Solar Farm, which started constructing last July, in order to power roughly 110,000 Los Angeles households.
8minutenergy president Tom Buttgenbach told PV Tech that the project has a levelised cost of electricity (LCOE) of US$0.058/kWh fixed for 30 years. With inflation adjustment this comes to around $0.035-0.038/kWh, which is below gas-fired power plants and some of the cheapest coal plants.
Although coal-fired power plants have been outlawed in California for some time, with the exception of a Utah-based plant powering Los Angeles, Buttgenback said PPA prices for coal plants are in the range of $0.03-0.04/kWh but they can be as high as $0.08/kWh. Furthermore these cheapest tariffs tend to be for gigawatt-scale power plants that are tending to become less compliant with Environmental Protection Agency (EPA) rules, which are becoming tighter. Such plants will have to upgrade significantly, which will drive up costs or they will have to shut down.
In terms of gas plants, brand new, high-efficiency plants are in the range of $0.04-0.08/kWh, so Springbok 2 will reach a tariff below these modern, high efficiency, combined-cycle gas plants.
The long-term 30-year PPA signed with the Los Angeles Department of Water and Power (LADWP), on behalf of the Southern California Public Power Authority (SCPPA) has helped 8minutenergy keep prices low, the company said. Meanwhile the firm will be able to share existing transmission lines, which also saves money.
Springbok 1 used modules from China-based manufacturer Jinko Solar, whereas Springbok 2 will use modules form Trina Solar.
Design and dust
Buttgenbach said the design process has been efficient from its inception, having worked closely with environmental groups since the plant is located in a desert tortoise protected area. The firm managed to come up with a cost-effective mitigation strategy and it was able to source farmland that was abandoned 20 years ago due to a lack of water. This made the plant more acceptable from an environmental perspective as the land was already disturbed.
A neighbouring community was concerned about dust coming from the project construction, however, dust had been a problem prior to the solar development as the abandoned farmland had turned into a dust bowl. Much of the topsoil had been disturbed and then left alone creating this dust.
Alongside the locals, 8minutenergy developed a plant to stabilise the dirt and revegetate the land. They used a polymer to bind the topsoil together so dust does not pick up in high winds, which benefits both the community and the project, as dust can cause soiling of the solar panels.
Buttgenbach said: "There are still some fields out there that used to be farmed and that causes dust problems, but at least we have now taken about 2,000 acres of that problematic land out of being."
Measures to reduce the dust cost the firm around US$0.5 million, meanwhile the firm must constantly water the site during the construction phase. Once complete the project will need to be washed around four times per year especially in the dry summer months.
D. E. Shaw Renewable Investments (DESRI) was the majority investor in the project.
Swinerton Renewable Energy was chosen as the engineering, procurement and construction firm, with affiliates of 8minutenergy and DESRI overseeing construction management and further development.
The facility is expected to reach commercial operations in the fourth quarter of this year.