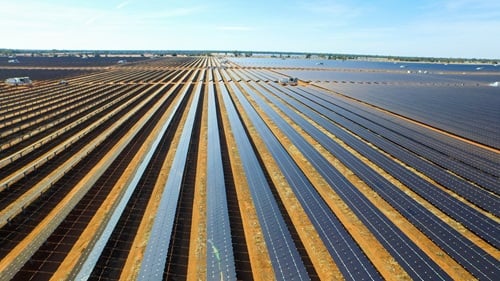 The Australian Renewable Energy Agency (ARENA) has shortlisted 22 PV projects totalling around 766MW to move to the next phase of its competitive large-scale solar bidding process.
According to ARENA, all the shortlisted projects came in well below the threshold price of AU$135 per MWh (US$93.4), fulfilling one of the aims of the programme in bringing large-scale PV costs down.
According to ARENA, even though the shortlist was whittled down from 77 initial proposals, it still leaves the programme well oversubscribed, with AU$100 million available to fund up to 200MW of large-scale capacity.
"More than three times the amount of funding available through the ARENA competitive round has been requested for the 22 projects, with an ask of approximately AU$332 million for projects totalling AU$1.68 billion," said ARENA CEO, Ivor Frischknecht.
"The projects are located in all mainland states and have a total capacity of 766MW. Each project was able to demonstrate its cost of energy was below the threshold of AU$135 per MWh, with some projecting costs significantly below this threshold level," he added.
Partly due to the recent political deadlock over the future of renewable energy in Australia, the country's large-scale PV segment is relatively undeveloped, standing at less than 240MW. The ARENA programme was launched to revive activity in a part of the market that had all but ground to a halt.
Frischknecht said Australia had "some work to do to catch up to countries with more mature large-scale solar industries", but added: "The strong interest and high-quality applications demonstrate Australia is serious about deploying large-scale solar and capitalising on its abundant solar resources.
"Through this competitive round, ARENA's support will ensure a series of large-scale solar projects get off the ground and will help move large-scale solar costs in Australia further down the cost curve, potentially to less than AU$100 per MWh by 2020."
The developers behind the shortlisted projects now have until 15 June 2016 to produce full applications. A full list of the proposed projects can be found here.
In a statement, Oliver Yates, CEO of Australia's Clean Energy Finance Corporation, said it was encouraging to see strong investor interest in large-scale PV in Australia once again.
"We expect these large-scale projects will require capital in addition to ARENA's funding and the CEFC is in a position to assist with the debt side of this financing," Mr Yates said.
"We expect our work with ARENA to support the development of Australia's large-scale solar capacity, building sector knowledge and skills that will ultimately help drive down the cost and increase the accessibility of this renewable energy technology. This makes good sense given Australia's abundant sunshine."
Alongside the ARENA programme, the CEFC is running its own large-scale solar programme, which will provide up to AU$250 million of financing for projects of 10MW or larger.
Mr Yates added: "The CEFC Large-Scale Solar programme has brought forward proposals for some 55 potential projects, with a potential total generating capacity of 2.3GW. While many of these projects are in the very early stages of consideration, we look forward to working with proponents to provide finance solutions where this can assist with the project proceeding.
"We are focused on providing viable projects with attractive long-term finance to rapidly accelerate Australia's large-scale solar options. While we would expect a small number of these projects to proceed to development, it is very encouraging to see strong investor interest in building the next generation of Australia's renewable energy infrastructure."