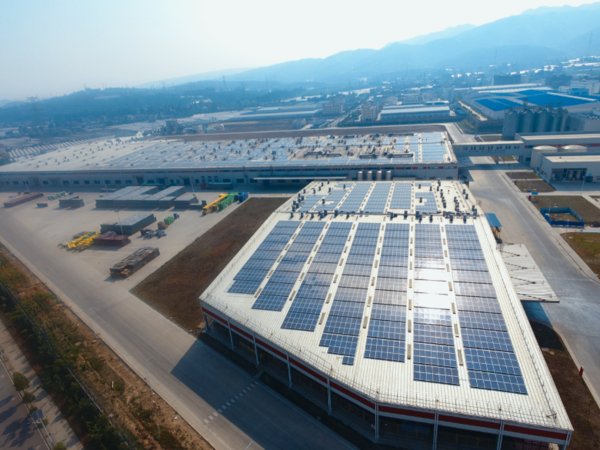 Opening toast for PV rooftop over Chinese brewery
22 May: A 2MW rooftop install built atop a brewery in China's Yunnan province has marked its commercial launch.
AB InBev, the self-styled world's largest brewer, is set to slash CO2 emissions by some 38,000 tonnes throughout the installation's lifetime.
The plant is the work of Asia Clean Capital, a renewable developer catering to corporate clients in Hong Kong and China. The firm built and financed the project and will now oversee maintenance.
Myanmar holds 'tremendous' solar investment potential
21 May: Myanmar represents "tremendous" opportunities for foreign solar players but structural barriers must be dealt with before roll-out can pick up speed, an expert review has noted.
Solar irradiation can reach a yearly 1,899kWh/m2 in the Southeast Asian nation and could see PV generate an annual 51.973TWh if the potential is fully realised, according to a report by SolarPower Europe's Emerging Markets Task Force.
The review acknowledged the significant hurdles for PV projects in the 53.4 million-inhabitant nation, not least the lack of dedicated solar policy, poor power infrastructure, political unrest and natural disasters.
However, experts argued, strong demand for electricity creates opportunities for investors. Foreign players should delay moves at least until PV regulations are published this year, the review recommended.
Distributed solar the winner of Japan's FiT-to-auction shift
21 May: Distributed solar will flourish while utility-scale will flounder as Japan inches its way through a challenging transition from feed-in tariffs (FiT) to auctions, analysts have predicted.
Annual solar additions will top 5.5GW throughout 2019 and 2020 but dip to 3.3GW in the following four years as the last batch of FiT-backed projects reach completion, according to a note released by Fitch Solutions this week.
The recently created auction scheme has, the analysts said, so far failed to produce competitive prices for large-scale projects.
As these continue to struggle under grid limitations and land scarcity, their distributed solar counterparts will "pick up the slack" and reach 4GW additions every year between 2024 and 2028, Fitch Solutions said.
The forecasts emerge as experts tell sister title Energy Storage News the Japanese solar boom will endure, helped along by new business models and pairings with battery storage.
India's SECI pushes deadline for government rooftop scheme
17 May: Firms looking to bag contracts under a rooftop PV programme across various Indian states will have additional time to apply, the Solar Energy Corporation of India (SECI) has announced.
The government agency will accept bids for the 97.5MW programme until 30 May, with a techno-commercial bid opening set to take place the following day.
Winning developers will be asked to identify sites, secure project parts, build and commission grid-linked solar installations across vacant roofs of government buildings.