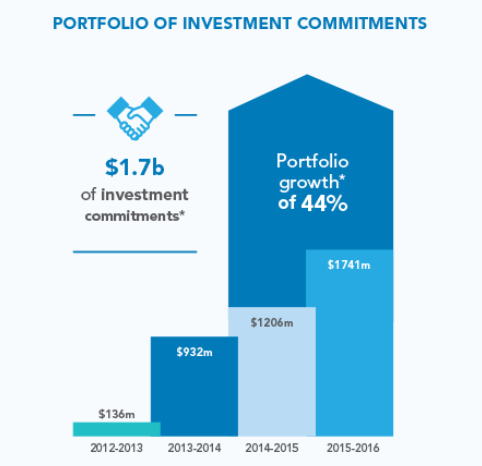 Australia's Clean Energy Finance Corporation (CEFC), responsible for driving investment in the clean energy sector, has invested a record AU$837 million (US$637 million) in 2015/16, up 73% from the prior year, but renewables project investment decreased.
Every AU$1 invested helped catalyse a further AU$1.95 investment from the private sector, meaning that projects supported in the year had a total value of AU$2.5 billion. CEFC's overall portfolio still grew by 44%.
However, most of the investment increases were seen in areas such as energy efficiency and creating financing mechanisms such as green bonds. Investments in renewable energy projects actually decreased slightly to AU$110 million this year compared to AU$115 million in 2014/15.
CEFC stated in its report: "The slight decline in total CEFC commitments to cleaner power solutions in 2015-16 reflects earlier hesitancy in this market segment, which we expect to improve on the back of enhanced investor confidence."
This could be attributed to prolonged uncertainties for the market regarding the Renewable Energy Target (RET) last year, as well as fears over the plundering of CEFC's renewables budget to be used in other areas. For example, back in June, Australia's federal government revealed plans for a third AU$1 billion reallocation of money from the CEFC, prompting a backlash from solar campaigners.
General highlights this year are shown in the following infographic: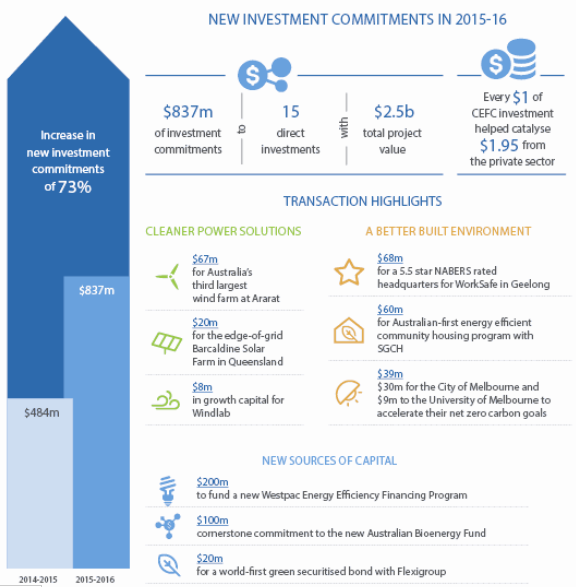 From the CEFC's inception in 2013 through to 30 June 2016, total investment commitments were almost AU$2.3 billion, contributing to projects of various technologies with a total value of AU$5.7 billion.
Highlights for solar in the year 2015/16 included:
Starting construction of the edge-of-grid Barcaldine Solar Farm in Queensland (CEFC provided AU$20 million)
Completion of the 10.6MW DeGrussa solar-plus-storage project in June (CEFC provided AU$15 million)
Completion of 2MW Uterne II Solar Farm in November 2015
Completion of 1.8MW Yulara solar installation in April 2016
Connecting the 56MW Moree Solar Farm to the grid in February 2016
CEFC chief executive Oliver Yates said: "Through our 15 new investments, we mobilised an even greater amount of private sector capital into clean energy activities, working across a diverse range of technologies and geographies.
"At the CEFC we have concluded another year demonstrating that we have a scalable platform to accelerate our investment activities and to continue to contribute to the transformation of clean energy investment in Australia."
The CEFC is on the lookout for a new CEO with Oliver Yates to step down once a replacement is found.