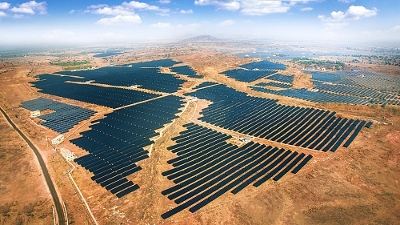 Two India-based developers have won the 150MW capacity available in Andhra Pradesh's latest solar auction, which comes under the Domestic Content Requirement (DCR) category.
PV firm Azure Power won two projects with a combined capacity of 100MW quoting a tariff of INR 5.12/kWh (US$0.077/kWh).
Meanwhile Prayatna Developers, an arm of Indian conglomerate Adani, won one 50MW project with a tariff of INR5.13/kWh.
Developers winning capacity in the DCR projects are required to source their solar equipment from domestic manufacturers under the central government initiative.
Jasmeet Khurana, associate director, consulting, at analyst firm Bridge to India, told PV Tech that the tariff for this DCR category is 10% higher than it was for open category projects in the state mainly due to the higher cost of domestic modules and the smaller size of these projects.
He added: "We would presume that domestic modules would be 10-15% more expensive than modules imported from China.
"Developers would have also accounted for a risk of any potential delay associated with the availability of the modules."
Khurana also warned there have been reports on social media platforms that Tata Power Renewable Energy won a project, however, Khurana's understanding is that this is not correct.
Other bidding developers that missed out on capacity were:
Yarrow Infrastructure – 5.14 (INR/kWh)
Hero Solar Energy – 5.25
ACME Solar – 5.36
Tata Power Renewable Energy – 5.41
NEEPCO – 5.70
Greenko Energies – 5.79
Renew Solar Power – 5.99
SkyPower Southeast Asia Holdings – 6.62
Yarrow Infrastructure once again narrowly missed out on winning any capacity having lost by a whisker in Andhra Pradesh's 350MW National Solar Mission (NSM) auction earlier this week. In that auction, SBG Cleantech, a joint venture between Japan's SoftBank, India's Bharti Enterprises and Taiwan's Foxconn, swept all 350MW and matched the previous record-low tariff in India of INR 4.63/kWh from SunEdison back in November. Both record low tariffs were for projects located in solar parks, where many development challenges are dealt with by government entities, and neither were subject to DCR requirements.