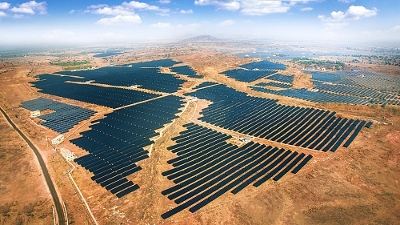 India-based solar developer Azure Power has commissioned four grid-connected solar projects in three Indian states.
These include a 50MW plant in Andhra Pradesh, two plants with a combined capacity of 28MW in Punjab and a 10MW plant in Karnataka.
Tariffs for the four plants range from INR5.89-7.33/kWh (US$0.088-0.11), harking back to an era before Indian solar tariffs starting hitting well below five rupees per unit since November 2015.
Inderpreet Wadhwa, founder and chief executive Azure Power, said: "We are delighted to make this contribution towards realisation of our Honorable Prime Minister's commitment towards clean and green energy, through solar power generation. Our sincere gratitude to the governments of Andhra Pradesh, Punjab and Karnataka, for all the cooperation and support extended.
"With the commissioning of these plants we have once again demonstrated our strong project development, engineering and execution capabilities. We are proud to have successfully brought down the cost of power by almost 74% in 2016 from INR17.91/kWh in 2009."
Azure Power claims to have developed India's first private utility-scale solar project in 2009 and it now has more than 900MW of solar commissioned across 15 Indian states, including a 100MW plant in Rajasthan as part of India's National Solar Mission (NSM).
In January, Azure Power was awarded 50MW of capacity with a winning bid of INR4.78/kWh (US$0.07) in the 100MW solar auction in Uttar Pradesh.