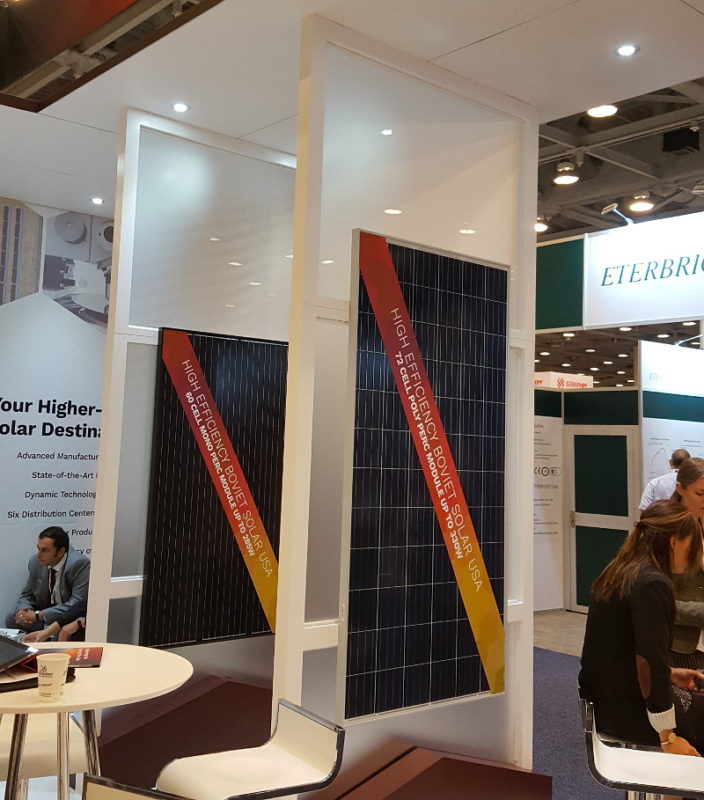 Vietnam located and Chinese-owned PV manufacturer Boviet Solar is set to position itself away from being perceived as a low-cost, low-quality producer by ramping a high percentage of its nameplate capacity to PERC (Passivated Emitter Rear Contact) solar cells and modules.
Manufacturing arm, Boviet Solar Technology Co. Ltd. and its affiliate Boviet Solar USA, which first exhibited at Intersolar North America in 2015 is a wholly owned subsidiary of China state-owned Powerway Alloy Materials Co., listed on the Shanghai Stock Exchange Market.
PV Tech spoke at length with Eric Ma, President and Managing Director of Boviet Solar USA at the recently held 2016 Intersolar event in San Francisco to gain further insight into its operations.
Boviet Solar in Vietnam has established a quasi OEM production model, looking after dedicated module assembly operations for a number of major China-based producers while establishing its own module brand.
Key to this strategy is running its own in-house solar cell production but with a new emphasis on high-efficiency multicrystalline and monocrystalline modules.
"Operations were restarted in 2013 with the recruitment of around 30 engineers from China and staff with 20MW to 30MW of OEM production," noted Ma. "This enabled a better learning curve for both cell and module production."
Not surprisingly, Ma also noted that establishing production in Vietnam was difficult, due to the lack of trained engineers and weak overall supply chain infrastructure.
"The tipping point for the company was 2014 and a number of companies including Chinese tier-1 producers saw a need to have production outside China to avoid European and US anti-dumping duties," added Ma.
Boviet Solar received around US$50 million in funding from its parent company that year and expanded OEM capacity to around 200MW. However, the company also achieved own brand module sales of around 50MW in 2014, with around 10MW shipped to Europe, according to Ma.
This was also the time the company was developing its own in-house cell technology with a dedicated R&D team, primarily recruited from Taiwan-based merchant cell producer, Motech Industries.
"In 2015 we undertook PERC cell upgrade tool selection and initial pilot production," noted Ma.
Module production has been expanded from 280MW in 2015 to 660MW as of June 2016. PERC cell migration is also underway and should reach around 400MW by the end of the year, according to Ma. R&D support from Powerway was also key to the PERC ramp, said by Ma to take six to nine months.
With the PERC migration, Boviet Solar showcased new PERC-based modules at Intersolar NA and will be able to ship module in the US from six stocked warehouses located in Arizona, California, Georgia, New Jersey, and South Carolina.
However, Boviet Solar is also developing other technologies to highlight the high-performance roadmap strategy. These include half-cut cells and five busbar technology.
"Our main focus on R&D is currently a next-generation N-type technology with new cell architecture that is aimed to be close to cell efficiencies achieved by SunPower but a 10% higher cost to our PERC product offering," noted Ma.
With future plans to ramp past 1GW has also helped the company establish the required supply chain in Vietnam and uses wafers supplied by GCL-Poly. The company has also established specialist skill courses at a local college in Vietnam to provide the required trained workforce for the future.
In the near-term the company wants to become a major PERC-based module supplier that offers highly competitive pricing that would be attractive to utility-scale projects in the US.