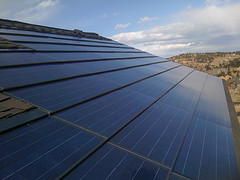 Government officials released a plan of action on Tuesday to address the power outage concerns created by the four-month long Aliso Canyon gas leak in southern California.
Media reports forecast power generators, particularly those in the surrounding Los Angeles area, to be bracing for potential blackouts of as long as 14 days this summer, as a result of the gas shortages triggered by the methane leak.
In order to mitigate predicted power disruptions, regulators are calling for alternative measures to aid in offsetting the lost gas supplies, with solar PV and solar thermal forming part of those plans. At the moment Aliso Canyon, the fourth-largest underground gas reserve of its kind, remains out of action on an indefinite basis. With the operation limited, there will be a greater burden on other utilities.
Environmental pressure groups are citing the Aliso Canyon disaster as a prime example of the hazards of what they describe as an over-reliance on fossil fuel energy sources. In light of this, renewable power sources are stepping up to the mark to reduce the natural gas demand.
The California Solar Energy Industries Association (CalSEIA) reported part of the action plan released by Governor Jerry Brown's Administration included designs to increase installations of rooftop solar systems; including solar water heating, solar space heating and solar electric systems. The effects of these solar heating technologies should not be underestimated, according to CalSEIA. It claims that if a solar heating project were installed on just 7% of the multi-family buildings in the Los Angeles area, it would offset the annual natural gas demand for all buildings served by Aliso Canyon.
In addition to commitments made in the action plan, CalSEIA is urging policy makers to take things a step further with specific recommendations that include expanding consumer incentives for solar heating technologies and extending access to rooftop solar systems for municipal utilities.
"To meet our state-wide climate change goals and address the challenges posed by Aliso Canyon, we need to consistent consumer access to the sun," said Bernadette Del Chiaro, executive director of CalSEIA, in a statement. "[The] action plan is one important step but there is much more California must do to tap into this no-brainer energy solution. Ultimately consumers need unfettered and economically viable access to solar power. Given our monopoly-dominated energy industry, policy makers are going to have to step in and help make this happen."