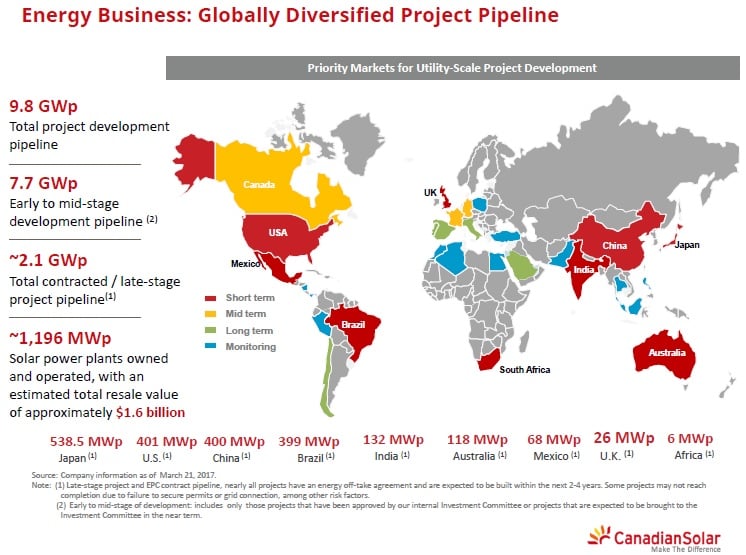 'Silicon Module Super League' (SMSL) member Canadian Solar has started commercial operation of its largest wave of PV power plants in Japan, totalling 52.5MW.
The three plants in Japan include the 47.7 MWp Mashiki plant, the 2.4 MWp Yamagata Asahimachi plant, the 1.3 MWp Shizuoka Tashiro plant and the 1.1 MWp Saitama Shiroishi plant, all the plants were completed in the first-half of 2017.
The three PV power plants are expected to generate around 5,429MWh of electricity per year, purchased under a 20-year feed-in-tariff contract at the rate of JPY32.0 (US$0.28), JPY36.0 (US$0.32) and JPY27.0 (US$0.24) per kWh respectively.
"We are pleased to have energized the 52.5 MWp of solar power plants in Japan. The 47.7 MWp Mashiki plant is the largest solar power plant that we have built there, which brings our total portfolio of projects in operation in Japan to 112.7 MWp," commented Dr. Shawn Qu, Chairman and Chief Executive Officer of Canadian Solar Inc., "This is a milestone as we continue to make progress in developing and delivering our high-value solar project pipeline in this important market."
Canadian Solar had previously highlighted that it expected to complete around grid connect around 103MWp in Japan in 2017.
Longer-term, Canadian Solar has a pipeline of over 600MW across Japan.