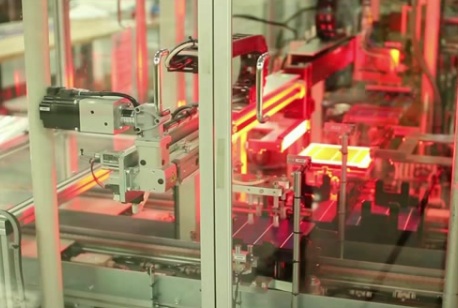 'Solar Module Super League' (SMSL) member, Canadian Solar has reported a net loss of US$17.2 million in the first quarter of 2019, which was expected, due to a slowdown in PV power plant project sales and rebuilds its late-stage projects pipeline for 2020 onwards.
The SMSL beat key financial guidance figures for revenue, gross margins and shipments as per usual. First quarter 2019 revenue was US$484.7 million, compared to $901.0 million in the fourth quarter of 2018.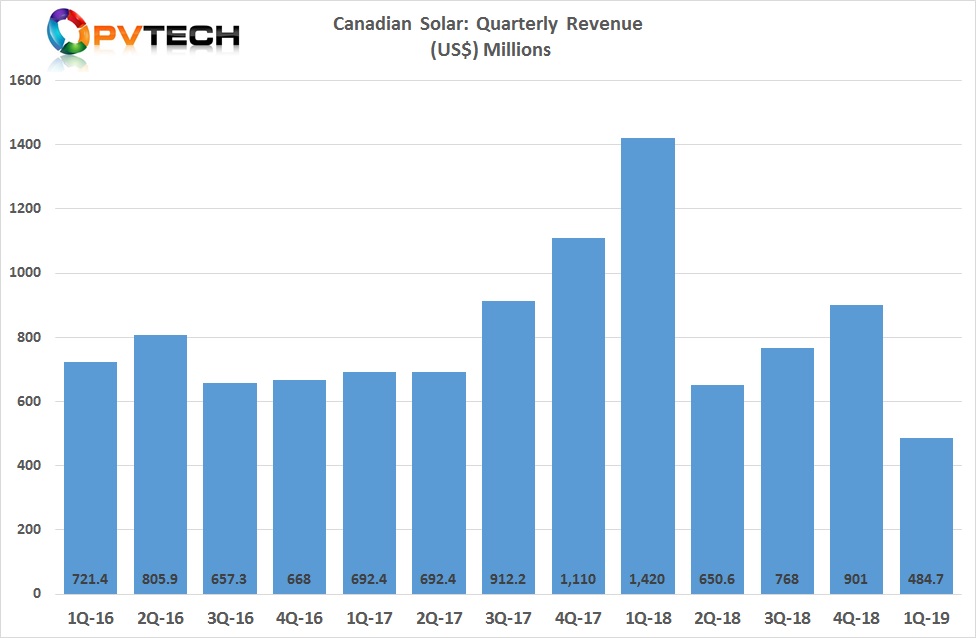 The company reported gross margin of 22.2%, compared 28.3% in the fourth quarter 2018, after excluding the benefit of a US countervailing duty (CVD) reversal of US$16.1 million in that quarter, and first quarter 2019 guidance of 16.0% to 18.0%.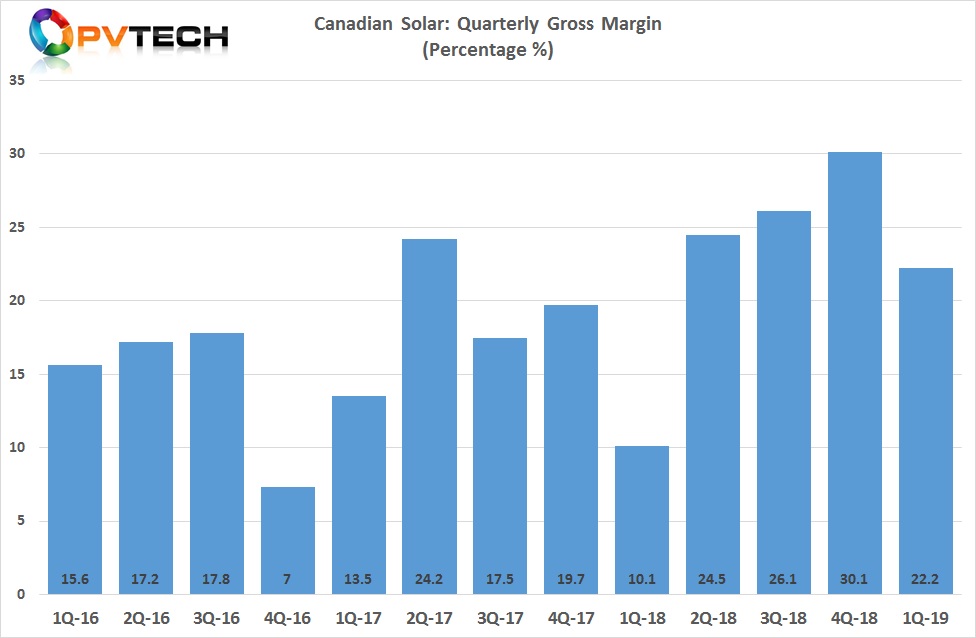 Total solar module shipments in the first quarter were 1,575MW, compared to 1,951MW in the fourth quarter of 2018 and first quarter 2019 guidance of 1.3GW to 1.4GW.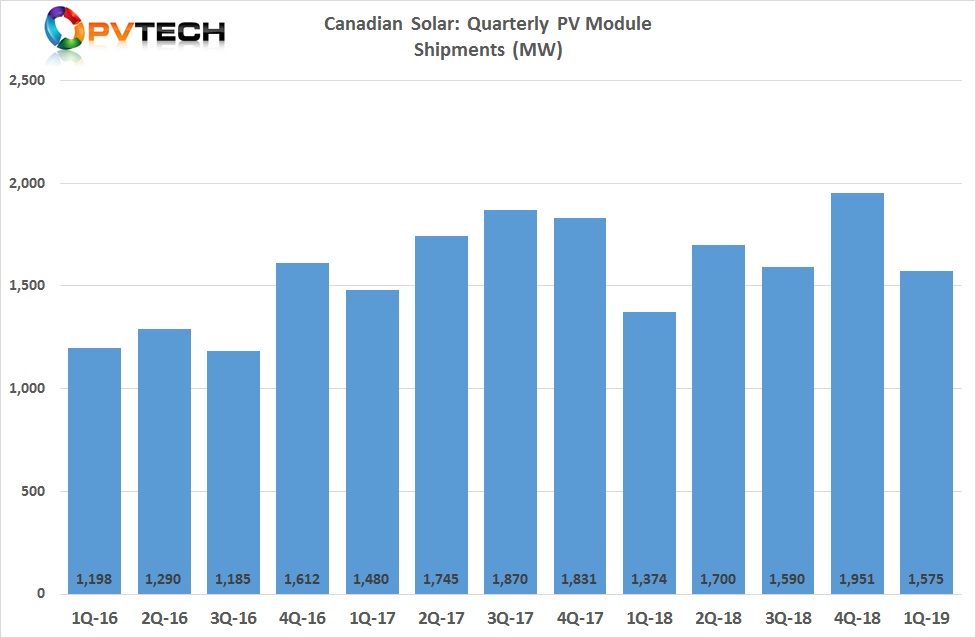 The company noted that an enterprise resource planning (ERP) system upgrade had resulted in work stoppages at several manufacturing facilities for a total of five days in the reporting period and the lower production and sales volumes due to the impact of the Chinese New Year Holiday.
Yan Zhuang, acting Chief Executive Officer of Canadian Solar, commented, "After achieving close to 140% growth of net profit in 2018 from the 2017 level, we reasonably expected a healthy pause in the first quarter of 2019 due to the acceleration of some high-profit project sales from 2019 into 2018, the appreciation of the RMB, lost manufacturing days related to our ERP system upgrade and the impact of Chinese New Year on production and sales volumes. Despite these challenges, we remained focused and delivered Q1 2019 solar module shipments, revenue and gross margin at or above our expectations. We are encouraged by the healthy demand levels we are seeing in our key markets, stability in module ASPs and anticipated higher utilization of our capacity. Our late-stage, utility-scale solar power project pipeline, including those under construction, increased to approximately 3.4 GWp, as of April 30, 2019. The sale of the majority of these projects remains on track for 2020 or later."
Manufacturing update
The company did not update any manufacturing capacity plans from the previous quarter. However, it is worth noting that with current cell and module capacity expansions set for 2019, Canadian Solar is significantly closing the gap between cell capacity and module capacity.
The company is guiding solar cell capacity to reach 9,300MW by year-end, while module assembly capacity is expected to reach 11,200MW, compared to 6,300MW of solar cells and 8,800MW of module assembly nameplate capacity at the end of 2018.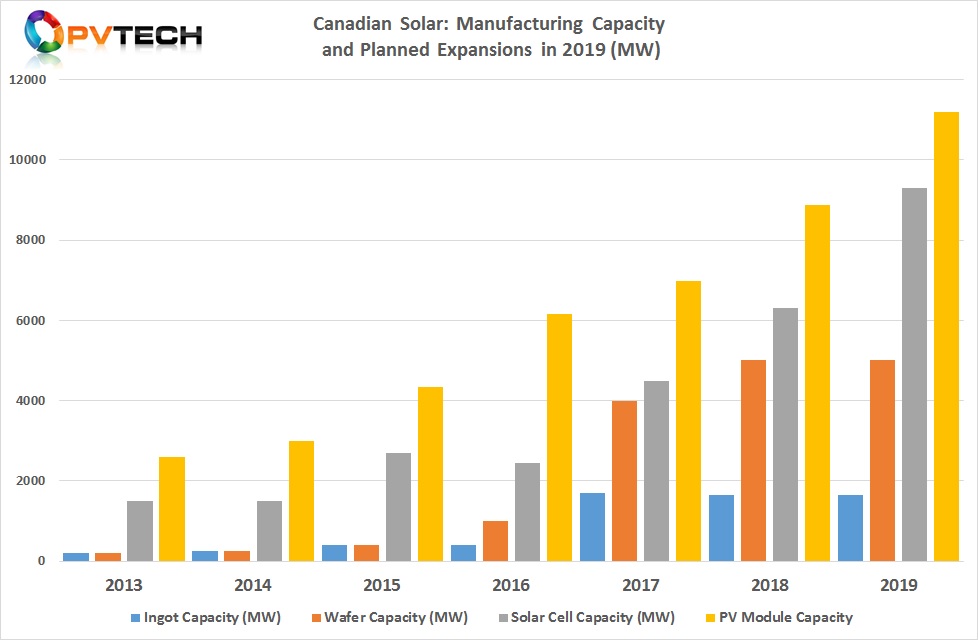 PV project pipeline update
Canadian Solar said its late-stage, utility-scale solar project pipeline, including those in construction, totalled approximately 3.4GWp, with 1,525MWp in the US, which is 315MW higher than previously reported.
The pipeline in Brazil totalled 482.6MWp, up slightly from 476MWp, previously reported.
Mexico was 368MWp, after the sale of the completed the sale of the 68 MWp Aguascalientes project. Japan remained virtually unchanged at 294.8MWp, as well as the 100MWp in China.
Projects totalling 651.5MWp were in Australia, Argentina, Canada, Israel, Taiwan, thePhilippines, India, Malaysia, Italy and South Korea.
Canadian Solar's portfolio of utility-scale, solar power plants in operation totalled 983.6MWp at the end of the first quarter of 2019, compared to 986MWp in February, 2019 when the company reported full-year results in March, 2019.
Guidance
Canadian Solar guided total solar module shipments to be in the range of approximately 1.95GW to 2.05GW, including approximately 50 MW of shipments to its utility-scale solar power projects.
Total revenue for the second quarter is expected to increase significantly and be in the range of US$970 million to US$1.01 billion, while gross margin is expected to decline to between 13% and 15%.
The company noted that it was running with about 50% to 60% of long-term module capacity already booked, while the focus would be on monetizing 3.4GWp of assets in its late-stage, utility scale solar power project pipeline. Proceeds were expected to be reinvested in future projects.