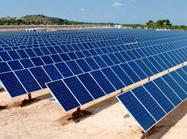 Solar power company Canadian Solar announced Wednesday that it has received US$3.5 million in funding from the Australian Renewable Energy Agency (ARENA) for two PV projects totaling 47MW in Australia.
The two PV installations, located in Longreach and Oakey, Queensland, will be 17MW and 30MW in size. Canadian Solar expects to start construction on both projects in the first quarter of 2017 and plans to commence operations in January 2018 or earlier.
Dr. Shawn Qu, chairman and chief executive officer of Canadian Solar, said: "We are pleased and proud to secure the funding from ARENA to support our solar project business in Australia, where we see the market is growing steadily. By leveraging our strong project development and execution capabilities, and with the support from the local government, we will continue to expand and execute on our quality solar project pipeline in Australia, so as to make contributions to the adoption of clean solar energy in the country."
The 17MW Longreach project will be comprised of 54,600 polycrystalline modules and is expected to generate 39 GWh of electrical output in its first year of operation. The 30MW Oakey installation will use 93,600 Canadian Solar modules and have an expected output of 59.9 GWh.