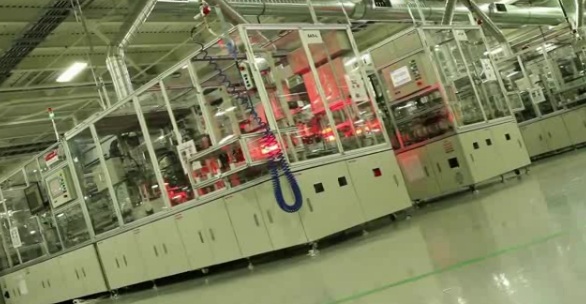 'Silicon Module Super League' (SMSL) member Canadian Solar has made its third major revision to its planned manufacturing capacity expansion plans for 2016, while reiterating previously guided PV module shipments and revenue for the year.
Canadian Solar said in reporting second quarter financial results and subsequent earnings call that it was revising its cell manufacturing nameplate capacity expectations for the end of the year, primarily due to the impact of tornado damage at its JV solar cell factory in Funing County. Jiangsu Province on June 23, 2016.
Cell capacity update
The Funing facility would be out of action until the first quarter of 2017, with volume production back online in the second quarter. The Funing plant would have added a further 500MW of capacity by July, 2016 to reach a nameplate capacity of 1GW.
As a result, Canadian Solar expects in-house cell capacity to reach around 3.05GW by the end of 2016, compared to the last revision expectation of 3.9GW.
Cell expansions of 850MW are going ahead via a new cell manufacturing plant located in South Eastern Asia, which the company said would be commissioned in September of 2016.
Interestingly, the nameplate capacity at the South Eastern Asia cell plant has been increased twice. Initially, Canadian Solar said that plant would have a nameplate capacity of 500MW, yet that was later raised to 700MW.
Module assembly capacity update
However, Canadian Solar also noted that it would be curtailing PV module capacity expansions due to the threat of overcapacity, increased ASP declines and an overall industry downturn. Management noted that keeping strong control of module inventory would be a key strategy during this period.
Canadian Solar said hat it expected in-house module capacity to reach 5.8GW by the end of year, instead of previous guidance of 6.43GW.
However, based on PV Tech's previous analysis of Canadian Solar's expansion plans, module assembly capacity would have reached 6.4GW to 6.6GW at year-end.
Capacity expansions that would continue included its new 650MW module assembly plant in South Eastern Asia, which was said to have been commissioned in early August, 2016. Again, this would seem to be a capacity increase of around 50MW, based on previous management commentary and PV Tech's analysis.
A new JV assembly plant on Brazil with an initial 360MW of nameplate capacity was also expected to be commissioned in September of 2016, providing the remaining majority of expansions. Again, this would seem to be a capacity increase of around 60MW than previously guided.
Only around 460MW of module assembly capacity would seem to be added at its facilities in Suzhou, Jiangsu Province, and Luoyang, Henan Province.
Ingot/Wafer capacity update
In contrast to the curtailment of capacity expansions in solar cell and module assembly segments, Canadian Solar highlighted that its multicrystalline wafer manufacturing capacity was expected to reach 1.3GW by the end of 2016, up from previous guidance of reaching 1GW by year end.
The company noted that at least 900MW of ingot/wafer capacity would utilize diamond wire-saws by year-end, the first major PV manufacturer to use the technology for multicrystalline wafer production. Diamond wire technology has been adopted for monocrystalline wafer production as it significantly increases cutting speed, boosting throughput and lowering manufacturing costs with the elimination of slurry and recycling.
The adoption of diamond wire-saw technology was said to be compatible with Canadian Solar's proprietary Onyx black silicon multicrystalline solar cell technology, significantly increasing solar cell efficiency while reducing silicon usage.
Various module assembly expansion plans previously announced, such as in Vietnam (300MW) and Indonesia (30MW) were not discussed in the call or mentioned in Canadian Solar's second quarter financial results.
Efforts previously highlighted by management to restore a better in-house balance between cell and module capacity, which had seen the cell to module ratio fall below 50% in 2015, would seem to have been impacted by the tornado and overcapacity fears.