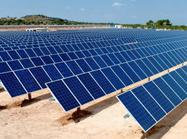 Solar power company Canadian Solar announced Tuesday that it has secured US$50 million in non-recourse project financing with a five-year term for two PV projects in Australia with the Bank of Tokyo-Mitsubishi UFJ, Ltd. (MUFG) and Clean Energy Finance Corporation (CEFC).
The 17MW Longreach project and 30MW Oakey project in Queensland are both expected to begin construction in May 2017 and reach commercial operation in early 2018.
Once completed, the two installations are expected to generate enough energy to power nearly 12,000 homes under a 20-year contract for differences awarded under the Queensland government's Solar 150 program. These two projects have been awarded US$2.7 million in grant funding from the Australian Renewable Energy Agency (ARENA).
Dr. Shawn Qu, chairman and chief executive officer of Canadian Solar, said: "We are pleased to secure the financial backing from MUFG and CEFC, alongside the funding support from ARENA. These projects will directly contribute to the Queensland government's commitment to generating 50 percent of its electricity needs from affordable clean energy by 2030. We look forward to making further investments in Australia as we execute on our development pipeline."