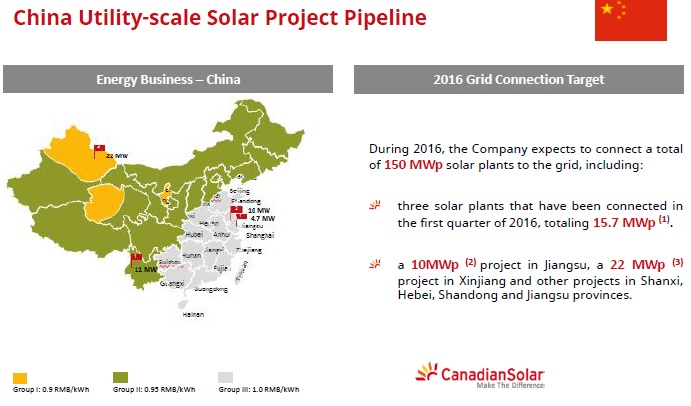 'Silicon Module Super League' (SMSL) member Canadian Solar said it had sold grid connected PV power plants in Funing County, Jiangsu Province, China for approximately RMB218.5 million (US$32.8 million).
The project sale agreement was signed with a manufacture of specialty instruments and apparatus, Create Technology & Science Co., Ltd.
Dr. Shawn Qu, Chairman and Chief Executive Officer of Canadian Solar said, "We are very pleased to announce the sale and transfer of these projects to Create Technology & Science, a state-owned company in China. This deal positions us well to continue to monetize our high quality solar power plant assets in China, recycle out capital and strengthen our balance sheet. We value our partnership with Create Technology & Science and look forward to our continued successful cooperation."
The company did not disclose which projects and total megawatts of the projects in Jiangsu Province that were sold.
In November, 2015 Canadian Solar highlighted in an investor presentation that it had 48MW of project pipeline in Jiangsu Province and 459MW in total across the country.
In the first quarter of 2016, Canadian Solar noted that it expected to connect a total of 150MW solar plants to the grid in China this year, including at least one, 10MW project in Jiangsu Province.