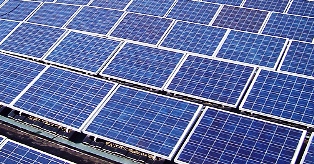 Canadian Solar has signed 25-year power purchase agreements for an aggregate 80MW(ac) of solar power projects in the Indian state of Maharashtra with the Solar Energy Corporation of India (SECI).
Canadian Solar, which continues its downstream progress, was originally awarded the projects via a competitive auction for a total of 450MW(ac) capacity. The benchmark tariff was set at INR4.43/kWh (US$0.066) and the firm bid for viability gap funding (VGF) support of INR1.999 million/MW (US$30,379).
These projects are due to start operations by late 2017.
Shawn Qu, chairman and chief executive of Canadian Solar, said: "We are pleased to secure our first 80MW(ac) of solar power projects with SECI, a bankable and reputable off-taker operating under the Government of India. This investment adds to our India pipeline that stands at 110MW(ac) and represents a significant milestone for Canadian Solar in one of world's fastest growing renewables markets."
India officially passed 10GW of solar installations last week, according to central government data.