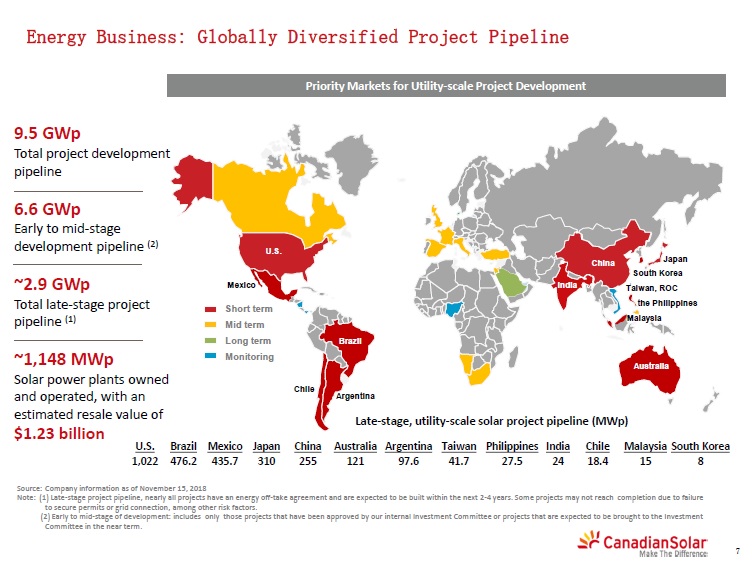 'Solar Module Super League' (SMSL) member, Canadian Solar does not expect to repeat last year's strong profitability growth in 2019, due to falling PV module ASPs (Average Selling Prices) and a slowdown in PV power plant project sales as it rebuilds its late-stage projects pipeline for 2020 onwards.
After a series of high-value PV power plant project sales in 2018, which led to Canadian Solar posting gross margins as high as 30.1% in the fourth quarter of 2018 and profit growth of 140% in 2018, the company warned that its net profit in 2019 would be lower than the previous year. Although Canadian Solar does not report net profit figures its gross profit in 2018 was US$775 million.
Dr. Shawn Qu, Chairman and Chief Executive Officer of Canadian Solar commented: "We had an exceptional year in 2018, with close to 140% growth of net profit from the 2017 level. This clearly demonstrated our global leadership position, the winning model of our solar project business, and the benefits of our manufacturing business strategy. As we discussed previously, the acceleration of certain high-profit project sales also contributed to our success in 2018. This acceleration, however, will result in a reduction in solar project sale revenue and profit in 2019. And while we have a strong 2.9 GWp late-stage solar project pipeline, due to the typical project development cycle, we expect to realize sales for the majority of these late-stage projects in 2020 or later. This will likely create a temporary pullback in 2019 compared to 2018. We also expect lower profit from our module manufacturing business, partly due to higher costs caused by the appreciation of the Chinese RMB against the U.S. dollar and Euro over the past few months. Such cost increases would normally be offset by an adjustment of module ASP or by the cost reduction through technology improvements but that process takes time."
Dr. Qu continued: "Overall, while we expect 2019 financial results to be lower than 2018 due to the timing issues noted, this does not change our view on the long-term health, growth and profitability of our core business. We expect a rebound in project sales in 2020 and beyond given our robust project pipeline. Our focus on new solar module technologies, innovative products and premium channels will also help the Company maintain its competitive edge in its Module and Solar System business. We will continue to focus on delivering improved results and maximizing shareholder value."
As a result, Canadian Solar expects revenue in the to be in the range of US$450 million to US$480 million in the first quarter of 2019, compared to revenue of US$901.0 million in the fourth quarter of 2018 and US$1,420 million in the first quarter of 2018.
Gross margin for the first quarter of 2019 is expected to be between 16% and 18%, while net profit for the first quarter was said to be "low or negative," despite module shipments in the range of approximately 1.3GW to 1.4GW, on par with 1.37GW shipped in the prior year period.