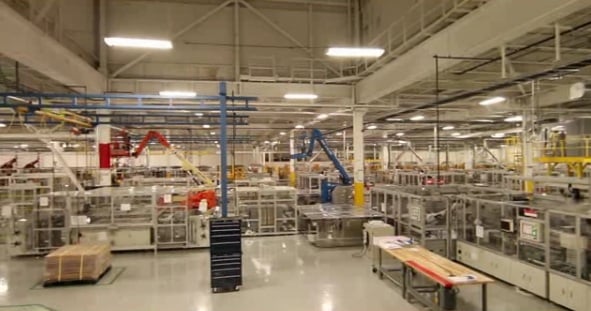 'Silicon Module Super League' (SMSL) member Canadian Solar reported record PV module shipments in the second quarter of 2017, while reiterating total module shipments in 2017 would be in the range of 6.0GW to 6.5GW.
Canadian Solar reported total module shipments in the second quarter of 2017 were 1,745MW, compared to 1,480MW in the first quarter of 2017, beating the high-end of second quarter guidance of 1,580 MW.
Solar module shipments recognized in revenue in the second quarter of 2017, included 29.2MW used in its total solutions business, compared to 176.3MW in the first quarter of 2017.
Financial results
Canadian Solar reported net revenue in the quarter of US$692.4 million, compared to US$677.0 million in the first quarter of 2017, and better than second quarter guidance that was in the range of US$615.0 million to US$635.0 million.
Net revenue from the total solutions business as a percentage of total net revenue was 6.5% compared to 18.8% in the first quarter of 2017.
Gross margin in the quarter was 24.2%, including the benefits of two AD/CVD reversals of US$42.6 million and US$15.0 million. However, gross margin was 15.9%, excluding these reversal benefits, compared to 13.5% in the first quarter of 2017.
The increase in gross margin was primarily due to higher average selling prices, according to the company, due to strong demand.
The SMSL reported a second quarter gross profit of US$167.8 million.
Demand in Asia, remained strong, accounting for US$452.7 million (65.3%) of revenue, up from US$394.3 million (58.2%) in the previous quarter.
The US was its second largest market, accounting for US$150 million (21.7%) in revenue in the second quarter, down from US$200 million (29.6%) in the previous quarter. Europe and ROW accounted for US$89.7 million in revenue (13%), compared to US$82.6 million (12.2%) in the previous quarter.
Dr. Shawn Qu, Chairman and Chief Executive Officer of Canadian Solar, remarked, "Q2 was a solid quarter, with solar module shipments, revenue and gross margin all coming in above guidance. We continue to make progress with respect to the monetization of our operating solar power plants in the U.S., Japan, Brazil, China and the U.K. We have entered into exclusive discussions with the winner of the binding bids submitted for 703 MWp of our U.S. solar power plant assets and expect to finalize the sale over the coming months. Separately, in July, we completed the sale of an additional 281 MWp solar power projects, which are still in construction in the U.S. In Japan, we are on track to launch a JREIT listing in the near future, with an initial portfolio of 65 MWp of solar power plants."
More updates to follow on PV project pipeline and manufacturing capacity expansion updates.
Manufacturing update
Canadian Solar continues to tweak its upstream manufacturing capacity expansion plans as a part of tight capital expenditure controls. Overall capex for 2017 would seem to have been lowered from initial plans of around US$200 million as former ingot production expansions were curtailed and cell and module plans slightly expanded, due to new debottlenecking in China and South East Asia.
The SMSL noted that capex through the first half of 2017 had been US$127 million and that apart from some new facility build in the second half of the year, the majority of capex allocation occurred in the first half of the year.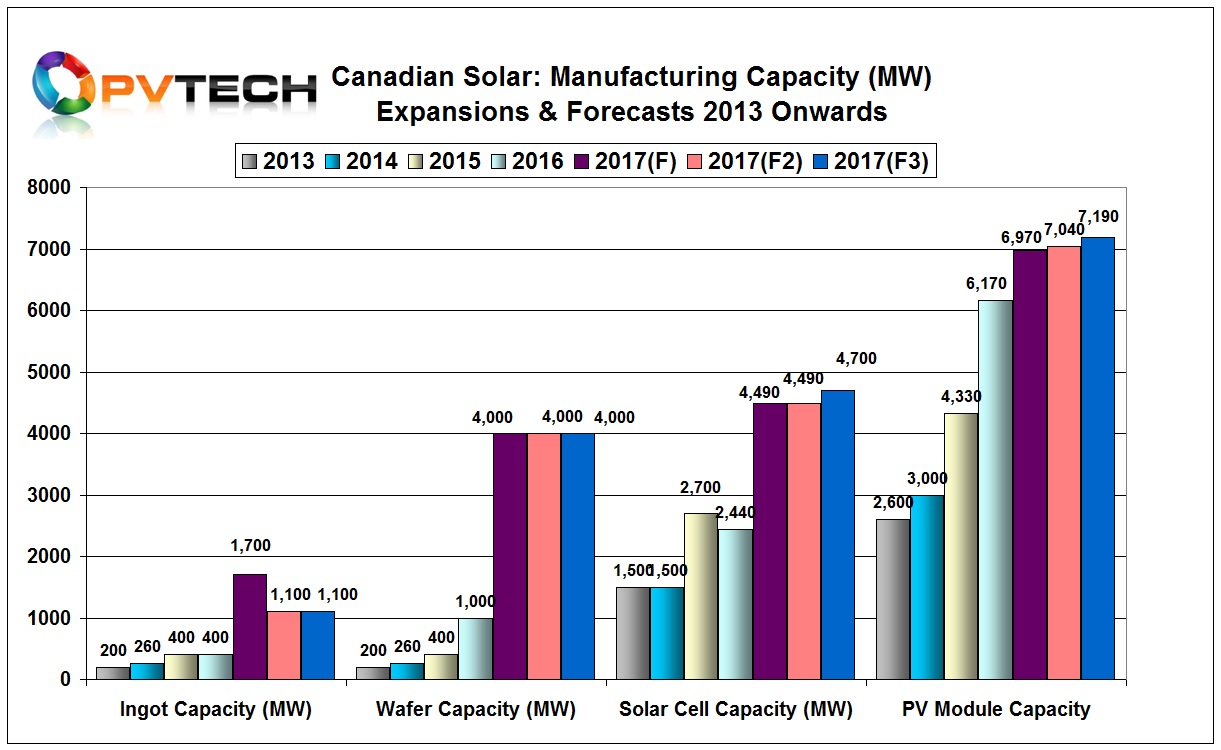 Key to average blended production cost reductions that were guided to reach around US$0.29/W at year-end, Canadian Solar continues to ramp up its new multicrystalline silicon ingot casting workshop in Baotou, China, which was said to have 50 new G6 sized casting furnaces with a 700MW annual capacity. The larger ingot size enables 36 bricks per ingot.
However, the G6 furnaces would be upgraded to G7 size by the middle of 2018, providing 49 bricks per ingot.
The SMSL also noted that it had relocated its older casting ingot furnaces, previously in Luoyang, China, to Baotou in order to benefit from lower electricity cost and total
As a result of the upgrades, the SMSL expects in-house ingot capacity to reach 1,500MW at that time.
Canadian Solar also confirmed that its in-house wafer manufacturing capacity reached 2GW in the second quarter and would reach 3GW in the third quarter of 2017 and 4GW by year-end. Importantly to lower overall production costs, the SMSL expected all wafer capacity would be migrated to diamond wire-saw technology by the end of 2017.
The SMSL also noted that its in-house solar cell manufacturing capacity was 4.49 GW at the end of the second quarter, while annual capacity at its Funing cell factory had reached 1,440 MW, with an additional 850MW cell capacity at its South East Asia facility.
Debottlenecking cell production later this year would enable the SMSL to reached a nameplate capacity of 4.70 GW by year-end.
The company expects total worldwide module manufacturing capacity would exceed 7.19GW by year-end, up from initial plans for the year to reach 6.97GW.