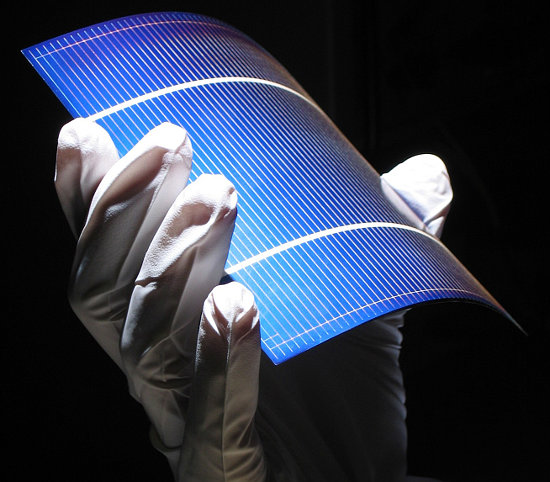 The PVCellTech conference in Malaysia is just two weeks away, on 16-17 March 2016 in Kuala Lumpur, and the wait is almost over for the solar industry's first dedicated event focused on real-world solar cell manufacturing.
The event is poised to finally explain the roadmap of solar cell manufacturing from the production standpoint, covering the topics that matter in the industry today, and presented by the companies that are ultimately shaping the performance specifications of modules that will be used in the industry for the next few years.
Cell technology remains the single most important stage of the PV value chain, in terms of efficiency levels, cost reduction targets and materials supply. However, for many years the rapid growth of the industry, coupled with the financial troubles of the manufacturing sector during the past few years, largely put cell manufacturing on the sidelines.
Over the past 12 months, this situation has changed radically and, during 2016, average power levels for 60-cell p-type multi modules will be pushing towards 270W, with 260-265W becoming industry-standard. Just a few years ago, solar farms were being specified with these panels rated at just 250W.
There are many drivers for cell technology advances, but one of the key issues is the profitability of the sector and the ability to allocate spending on R&D and capex.
Local policy and trade-related issues are also helping technology today. For example, deployment of p-type multi modules in China now has increased requirement to hit cell efficiency levels; overseas manufacturing is also becoming a necessity to access the growing US market for Chinese and Taiwanese producers; and the need to differentiate from mainstream China production has also gained in prominence.
Solar cell capex is back, and dominating value-chain investments
The figure below – taken from the newly released PV Manufacturing & Technology Quarterly report from PV-Tech's parent company's research arm – clearly illustrates the increased emphasis on solar cell manufacturing, with capex across the whole PV value chain firmly shifting to the cell stage during 2015 and 2016.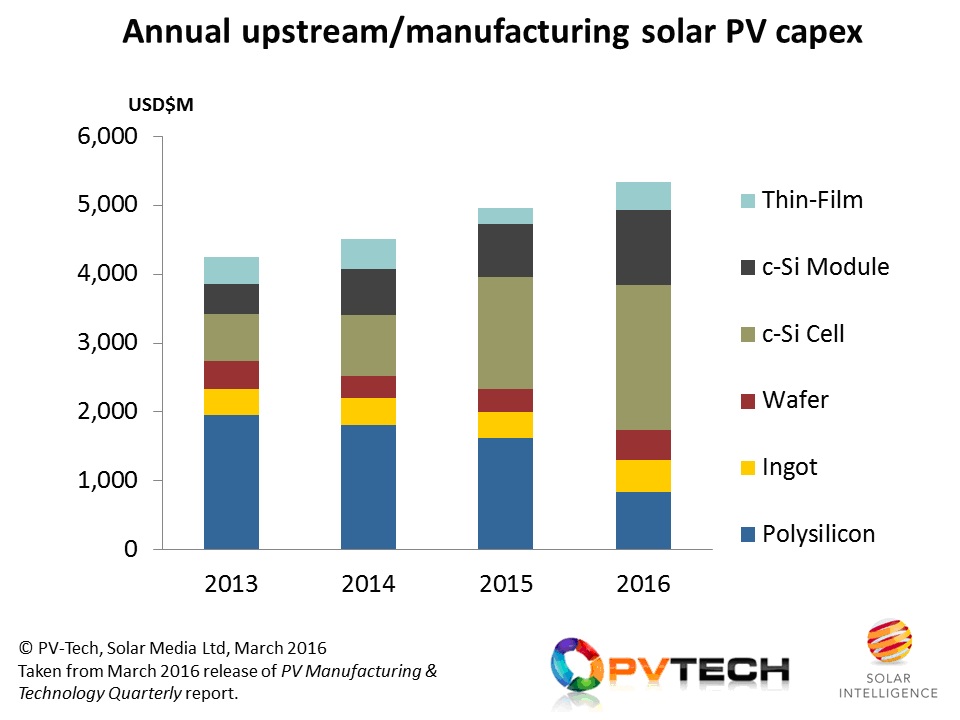 Understanding the profile of capex is key to explaining why cell manufacturing is now moving into pole position, in terms of the solar industry.
Much of the investments during 2013 to 2015 were based on final payments for polysilicon expansions that were signed off before 2013 and pushed out (or cancelled) as polysilicon ASPs crashed to the record lows of today.
Wafer and ingot spending has yet to pick up, largely due to the multi wafer segment having the greatest backlog of tooling that dated back to 2010-2012, coupled with the fact that multi market-share was increasing and the wafer quality improving drastically.
Module capex has been increasing, but spending here is a fraction of the $/W levels a few years ago, and increasingly dominated by Chinese tool suppliers and their multi-gigawatt order pipelines.
Cell capex growth, combined with increased R&D spending here, sets the backdrop perfectly for the companies, speakers and topics for PVCellTech.
Topics and speakers lined up for PVCellTech
When we look at the topics to be covered over the two days at PVCellTech, it shows a direct match with the issues pushing up cell capex and R&D spending, and the cell manufacturers that are really driving this change at the gigawatt-scale and beyond.
Let's run through some of the agenda for the event now, reviewing key issues that will be presented, discussed and hotly debated in Malaysia in two weeks' time, and revealing the star-studded line-up of companies and speakers that will take to the stage.
The introductory plenary session largely sets the scene for cell manufacturing today and some of the big questions that are being hotly debated across the industry, when internal strategies and competitive tactics are being reviewed.
• Pierre Verlinden, Chief Scientist & Vice-Chair of the State Key Lab. of PV Science & Technology, Trina Solar: The prospect of mass-produced multi-crystalline cells above 20% efficiency: how high can p-type multi go?
• Peter Cousins, Vice President Research, Development and Deployment, SunPower Corporation: Taking 25% n-type back contact cells from lab to GW-fab
• Xie Tian, Director of Wafer Quality Management, Longi Silicon Materials: The next generation of high quality & low cost mono c-Si wafers: enabling cell manufacturers to increase mono cell production levels
These three talks really sum up the competing forces at play in cell manufacturing right now. Can the mainstream industry stick to p-type multi going forward, accessing the massive installed capacity for casting and wafering that has been accumulated in China over the past few years? And move p-type multi in mass production close to the 20% level, while having a cost structure that simply cannot be challenged by mono (either n-type or p-type).
As one of the leading low-cost multi-GW cell producers in the industry today, Trina Solar has been tempting us with record cell efficiency levels for 6" p-type multi cells over the past 12-18 months, and many people are dying to know just how high can p-type multi go in volume manufacturing.
The roadmaps of the industry in the past are now being shown to clearly underestimate the limits of p-type multi, and as the dominant cell technology used today by some margin, kicking the show off in this manner is entirely fitting.
Having SunPower headline the event right after opens up one of the other themes underpinning cell technology today, as the leading proponent of advanced n-type cell manufacturing. SunPower remains in a league of its own with regards high-efficiency mass-produced cells, but getting there has been a journey that goes back decades. As much of the cell manufacturing sector retains aspirations to have mass-produced cells in the mid-20% range, it is important to understand that the route from R&D to volume production here is not something that happens overnight.
Finally, for the plenaries, the p-type mono question has to be featured, and today there is no better company across the c-Si value-chain to present on this than Longi Silicon Materials. Longi has probably been the most vocal advocate of driving p-type mono adoption across Asia in the past few years, made even harder by the tens of gigawatts of casting furnaces meeting wafer demand in China.
However, the tide is certainly changing on this, and over the past 12 months, Longi's plans for GW expansions, covering also midstream cell and module production, have been critical to keeping mono firmly on the table as one option to take market share away from p-type multi. Just recently also, SunEdison announced a multi-GW mono module supply deal with Longi that provides yet another indicator that mono production is going to continue to challenge p-type multi for many years ahead.
Indeed, we have also set up a dedicated session for PVCellTech on the p-type mono versus multi cell manufacturing issue, with the following companies/speakers/talks:
• Finlay Colville, Head of Market Intelligence, PV-Tech & Solar Media Ltd: Understanding the market-share dominance of p-type multi & strategies of leading p-type cell manufacturers
• Bob Chen, Corporate VP & Head of Cell Business Unit, Neo Solar Power: The cost analysis of using PERC: mono vs. multi
• Mike Barker, DuPont Photovoltaic Solutions: The evolution of p-type cell technology and the implications for metallization development
• Paul Gupta, President, IndoSolar: Capacity additions & technology choice for new c-Si fabs in South Asia & India
PERC cell technology is the hot topic
Beyond any doubt, the biggest request we got for PVCellTech was on PERC. Lots of people wanted to speak about PERC, their plans and the advantages and opportunities of putting rear passivation layers on p-type cells. It is likely going to be the most widely discussed topic over the two days, and the speaker list represents the leading companies in mass production of PERC today: Hanwha Q CELLS, REC Solar, Gintech, Sunrise Global Solar & SolarWorld.
• Markus Fischer, Director R&D Processes, Hanwha Q CELLS: Leading edge Q.ANUTM technology in GW scale mass production
• Hannes Rostan, Director Cell Technology, REC Solar: Reducing LID and improving the temperature coefficient for mass manufactured multi-crystalline Si PERC cells
• Walt Huang, CTO, Gintech: A general discussion of P-PERC in the mass production environment
• Budi Tjahjono, CTO, Sunrise Global Solar
• Holger Neuhaus, Managing Director, SolarWorld Innovations GmbH: Progress and perspective in high-volume manufacturing of mono- and bi-facial PERC solar modules
It should be noted that we also have Neo Solar Power and others speaking about PERC as part of other session talks over the two days.
Right now, the solar industry is gripped with PERC, and production of p-type cells could easily see 20% made with PERC technology during 2016. It will be fascinating to see how PERC evolves and whether rear passivation simply becomes a default process flow stage for tomorrow's standard p-type cells.
Already, many are asking: What comes next after PERC? But for now, PERC still has some way to go and there are many challenges to much of Chinese p-type multi making this switch and getting a recipe that Hanwha Q CELLS and REC Solar have perfected outside of China, to work in mainland China at companies not known for R&D excellence yet.
N-type and heterojunction seeing increased focus
After PERC, the requests for topics and speakers on n-type and heterojunction were the next big ask for the event, and in addition to SunPower's opening talk outlined above we have the following companies speaking: Panasonic, Meyer Burger, GCL System Integration, First Solar (TetraSun), Tempress Systems (Amtech Systems) and Yingli Green.
• Akira Terakawa, R&D Project Leader, Panasonic Corporation: Silicon heterojunction solar cells: current status & future technology drivers
• Gunter Erfurt, Managing Director, Technology and Product Centre, Meyer Burger: Readiness of equipment for mass production of heterojunction cells >22% average efficiency
• Zhang Chun, Senior Director of Cell Technology, GCL System Integration Technology: Progress of GCL's high efficiency HIT cell & module production
• Denis de Ceuster, Director R&D crystalline silicon PV, First Solar (TetraSun): Status of First Solar's high-efficiency n-type silicon 100MW pilot line
• Jan Marc Luchies, R&D Director, Tempress Systems (Amtech Systems): Cost effective high-efficiency passivated contact cells for production
• Shi Jinchao, Cell R&D Senior Director, Yingli Green Energy: Opportunities for n-type bifacial cell production in high volume
For many, seeing how n-type can stay ahead of the advances in p-type manufacturing is one of the most important cell issues of the next few years. There are still different approaches for n-type, with no single industry standard yet. Indeed, having been the only company to have mastered heterojunction until now, can others emulate Panasonic's achievements, or take things to the next stage in terms of performance and cost?
The output from the talks above will also provide some key indicators into assessing what we can expect from SolarCity's Silevo plans in 2017 and beyond, or indeed where LG Electronics fits into the overall mix of n-type module availability in the next few years.
PV roadmap output
While the sessions and talks will themselves provide the basis for the overall PV cell roadmap of the industry in the next few years, we are also delighted to have Markus Fischer choosing to unveil the brand new ITRPV roadmap at PVCellTech.
Seeing how ITRPV maps out the future, alongside many of the companies at the heart of GW-level cell production, will be interesting from a compare-and-contrast standpoint, and is a perfect complement to the main aims of PVCellTech as a whole.
The final session at PVCellTech includes several talks on the whole 'What Next' question, including findings from our own research at PV Tech as part of the new PV Manufacturing & Technology Quarterly report, released this week:
• Markus Fischer, Director R&D Processes, Hanwha Q CELLS: The new edition of the ITRPV roadmap: findings, trends & conclusions
• Finlay Colville, Head of Market Intelligence, PV-Tech & Solar Media Ltd: Forecast for PV cell production & capex: 2016-2018
If you have not yet signed up, and are keen to attend the PVCellTech event in Malaysia, 16-17 March 2016, please click here to details on how to register.