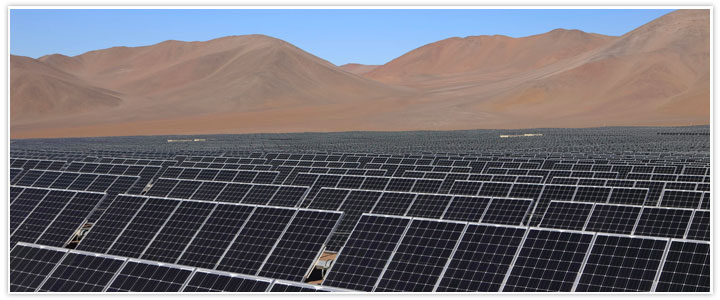 Chile has received 84 domestic and international bidders with multiple renewable energy submissions in its latest power tender.
In its largest ever power tender, the Chile National Energy Commission (CNE) is looking to procure 12,430GWh of energy per year for 20 years covering 30% Chile's energy demand from 2021. This power will be supplied across the SIC and SING grids in the North and Central regions of the country.
Bids are invited for the supply of energy in 'time blocks'. For example, 'Supply block No 2-B' is for power supplied in the hours between 08:00 and 17:59. This policy has been praised for its acknowledgement of the intermittency of renewable energy sources.
Big name solar developers entering the tender included Acciona Energy, Solairedirect and Engie. The results of the tender will be published on 17 August.
The 84 bidders represented a significant step up from the 38 bidders in the previous auction in October 2015 where the government secured an average price of US$79.3/MWh – all from renewable energy projects.
Minister of Energy, Maximo Pacheco, said: "We are fulfilling our goal to shake up a market that was lethargic and had become accustomed to operating with few actors, like an exclusive club. The state has regained its coordinating role in the energy sector and today is able to harness the private impetus towards greater competition that will benefit families and SMEs with lower prices on account of light."
Chile also recently passed a law involving a major upheaval of its transmission system that had been widely regarded as a critical hindrance to the deployment of renewables and the power sector at large. The power tender was actually delayed till July to ensure that the transmission law had been passed in time for the auction and thus give certainty to developers.
Solar power firms and some wind developers are already experiencing curtailment of their energy production in the north central regions of Chile, but many expcect the transmission upgrades to resolve the issue in the coming years.