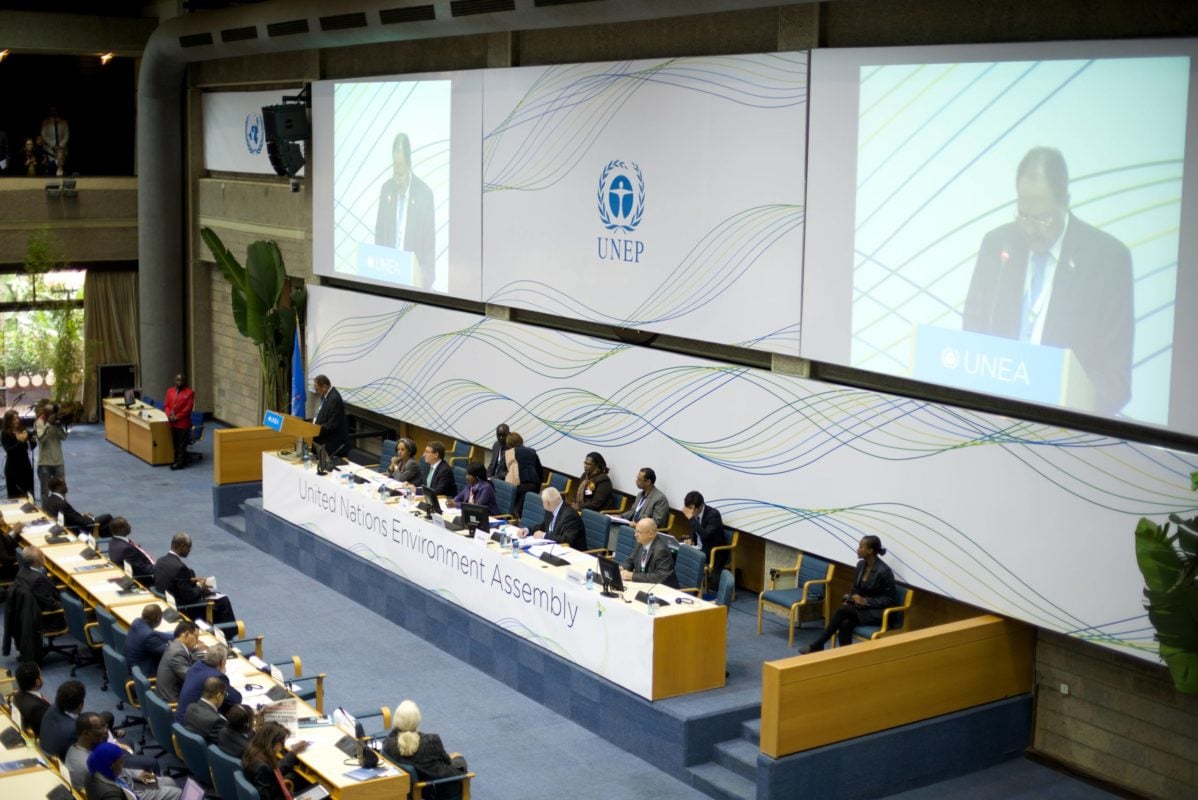 Climate finance for global renewable energy development will be a key part of the agenda at the upcoming United Nations Environment Assembly (UNEA) in Nairobi in May.
UN Under-Secretary-General and Executive Director of UNEP Achim Steiner has called 2016 the "year of implementation", creating the opportunity for the solar industry to stake its claim in delivering on the pledges made in Paris at the COP21 climate talks last year and the energy-focused element of the Sustainable Development Goals (SDGs).
The Assembly will take place at the UN Environment Programme's (UNEP) headquarters in the Kenyan capital from 23-27 May and will build on and assess the pledges made by nearly 200 countries at the Paris climate summit in December.
Government consultations in preparation for the second UNEA have taken place as part of the Open Ended Committee of Permanent Representatives to UNEP (OECPR).
The OECPR, made up of 300 delegates representing all UN Member States and major groups, has considered key items on the UNEA-2 agenda with focus on furthering action on delivering the environmental dimension of the 2030 Agenda for Sustainable Development.
Climate finance mechanisms to support the development of clean energy capacity worldwide will be a central theme at UNEA-2.
Steiner said: "2016 has been called the year for implementation and delivery. UNEA-2 is our chance to show the world UNEP's readiness and commitment to achieving the Sustainable Development Goals through our programme of work.
"This OECPR is a vital forum in itself – a landmark in UNEP's journey, and one that will help determine the organisation's direction and place in the global arena," he said.
UNEA-2 will be one of the first major global conferences taking place since the adoption of the 2030 Sustainable Development Agenda and the Paris Agreement on Climate Change.
The meeting will review UNEP's Medium Term Strategy, its Programme of Work and budget which constitute UNEP's capacity, through its strategy, business model and financial resources, to contribute to delivering the 2030 Sustainable Development Agenda and the Paris climate agreement.
A package of draft resolutions will also be reviewed on topics that range from the illegal trade in wildlife to chemicals and waste and marine plastic debris.
UNEA will also consider the new stakeholder engagement policy, which will help to determine how civil society will be able to contribute in solving urgent environmental challenges and take advantage of environmental opportunities.
Steiner said: "UNEP's stakeholders are critical to its work, and you will see that in action at UNEA-2. The meeting will provide a space for representatives from government, business, academia, scientific institutions and various communities to contribute and find value. We are putting together an engaging menu of side events that we hope will attract leaders from all sectors."
Up to 15 private sector companies will showcase cutting edge clean technologies at UNEA as part of the Sustainable Innovation Expo 2016 (SIE16).
SIE16, organised by London-based Climate Action and UNEP, will be a key part of the Assembly and will give clean technology firms a unique platform to engage with decision makers from governments, development banks and UN agencies. LED manufacturer Philips Lighting has become the latest firm to sign-up to SIE16.
Climate Action's CEO Nick Henry, said: "We are delighted to welcome Philips Lighting to the Sustainable Innovation Expo 2016. Their LED solutions are changing lives in Arica and around the world and they will be an essential participant at the UN Environment Assembly in May."
Solar energy companies including SunEdison, Solar Reserve, Solea, and SunErgy previously participated at the meeting and demonstrated their technologies to attendees.
To find out more about the Sustainable Innovation Expo 2016, click here. Climate Action and PV Tech's publisher Solar Media are both part of the Henley Media Group.