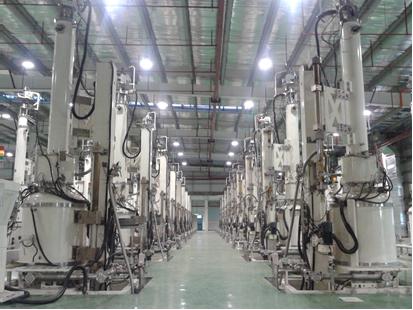 Monocrystalline wafer producer Comtec Solar Systems Group has reported a revenue increase of 20.4% in 2015 on product shipments (ingot and wafers) increasing by 14.5%, year-on-year.
Comtec reported total ingot and wafer shipments for the year was approximately 426.8MW, an increase of 14.5% from 372.7MW in 2014.
Revenue from sales of 125mm (2) monocrystalline solar wafers decreased by RMB45.8 million (US$7.07 million), or 9.2%, from RMB497.0 million (US$76.7 million) in the previous year, primarily due to a decrease in its average selling price (ASP) by 13.4% to RMB1.49/W (US$0.23/W for 2015.

The company noted that the revenue decrease was due to ASP decline that was partially offset by the increase of sales volume of 4.7% to 303.1MW for the year, up from 289.5MW in the prior year.
Revenue from sales of 156mm (2) monocrystalline solar wafers was RMB169.8 million (US$26.2 million) in 2015, up 95.2% from the previous year, due to an increase in demand from customers that had signed long-term agreements. Shipments of the larger wafer size increased from 51.8MW in 2014 to 101.3MW in 2015.
Comtec reported the shipment volume of ingot and wafers as well as of the excess inventory of polysilicon increased by 13.3% and 101.5% respectively in 2015.
Financial results
Comtec reported 2015 revenue of RMB1,091.2 million (US$168.4 million), an increase of 20.4% from approximately RMB906.6 million in 2014.
Around 39.7% of total revenue (US$66.9 million) for the year was generated from its major customer with manufacturing operations in the Philippines and Malaysia, down from 48.7% in 2014. Remaining sales were mainly generated China, US, Japan and South Korea.
Revenues from Comtec's top five customers represented approximately 63.2% of total revenues, compared to approximately 70.4% in 2014.
Revenue from excess polysilicon supply was US$70.9 million in 2015, up from RMB 305,021,000 in 2014. Monocrystalline solar ingot sales totalled RMB 3,631,000 (US$560,655) in 2015, down from US$1.5 million in the previous year.
Monocrystalline wafer sales totalled US$95.8 million in 2015, up from around US$90.1 million in 2014.
The company has previously warned it would report a loss for the year, due to a series of write-downs, advance polysilicon payments and declining wafer ASPs.
Comtec said that its gross loss in 2015 was approximately RMB94.4 million (US$14.57 million) for the year, compared to a gross profit of approximately RMB60.0 million in 2014. Gross loss margin was 8.7%, while its net loss for the year was approximately RMB434.7 million, compared to a net loss of RMB90.5 million in 2014.
The company reported a net cash inflow from operating activities of approximately RMB82.4 million in 2015 and maintained cash and restricted cash balances of approximately RMB220.8 million.
Manufacturing update
Comtec noted that it was still in the process of ramping its facility in Malaysia to 300MW, but had experienced ramp-up delays mainly due to slower than expected progress on training of new staffs in Malaysia. The company expects the ramp to have been completed within second quarter of 2016.
Comtec also noted that the conversion efficiency of solar cells using its 'Super Mono' wafers reached approximately 25% in 2015, while wafer thickness was reduced to approximately 140 micron.
During 2015, Comtec noted that it had completed the qualification process with a new Japan-based customer for the sale of Super Mono products and pilot shipments were said to have commenced during the second quarter of 2015.
PV Project update
The company is planning to build a total of 200MW of downstream PV power plant projects in 2016, its first planned move downstream.
The projects were said to be mainly in the distributed generation sector, within 2016, which could be either in the form of green field self-developed projects and/or by way of acquisitions of downstream projects.
The company also noted that it was currently in the process of obtaining qualification with 'two sizable and reputable customers that are both headquartered in the United States as well as certain potential customers located in Japan, Korea and Taiwan'.
Due as well to increasing use of N-type mono wafers in China, management expects increasing demands for its 'Super Mono' wafers in 2016.