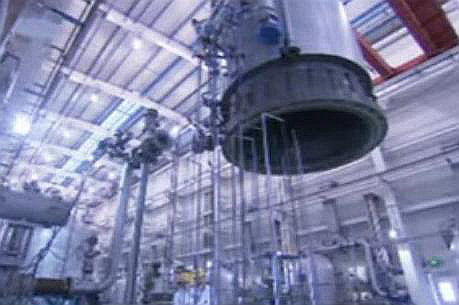 China-based polysilicon producer Daqo New Energy Corp said that its polysilicon production costs in the fourth quarter of 2018 had declined to a record US$7.94/kg. The company is targeting to reach US$6.80 per kilogram in 2020, once the capacity expansion to 70,000MT per annum has been completed.
The company said that its Phase 4A capacity expansion project was progressing smoothly to reach its annual polysilicon production capacity target of 70,000 MT by the end of the first quarter of 2020.
However, Daqo noted that its Xinjiang production facilities were now running at full capacity and a reduction in unit utility usage would result in an operating leverage and other cost savings that would bring total production cost down to approximately US$7.50/kg in the first quarter of 2019.
Fourth quarter 2018
Daqo reported fourth quarter revenue of US$75.6 million, compared to US$67.4 million in the third quarter of 2018. The company noted that the sequential increase in revenue was primarily due to higher polysilicon sales volumes partially offset by lower ASPs.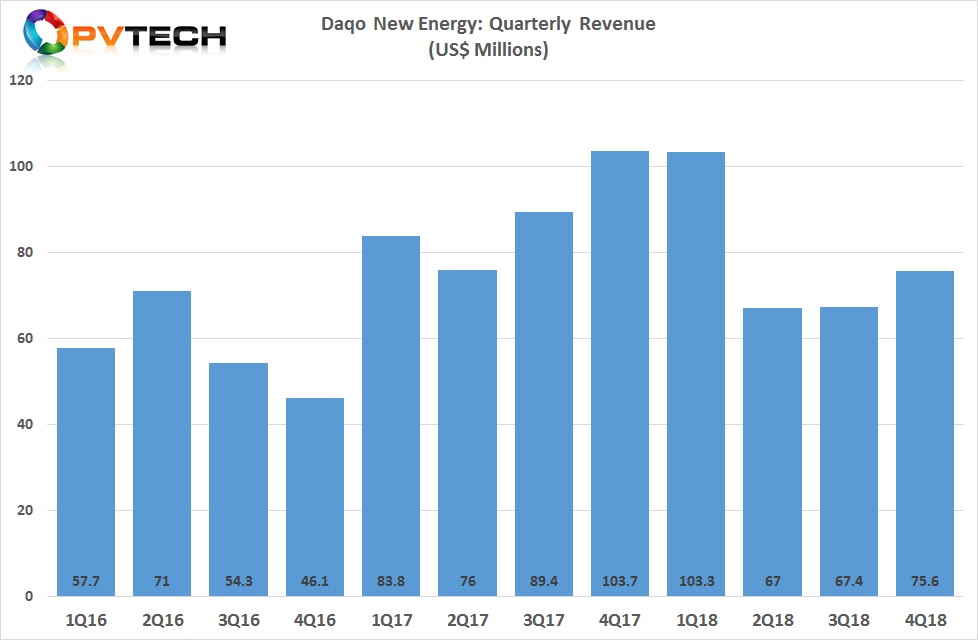 Gross profit was US$16.9 million, compared to US$12.8 million in the third quarter of 2018, while gross margin increased to 22.4%, compared to 19.1% in the third quarter of 2018. The lower average polysilicon production costs were behind the increase, although partially offset by the lower ASPs.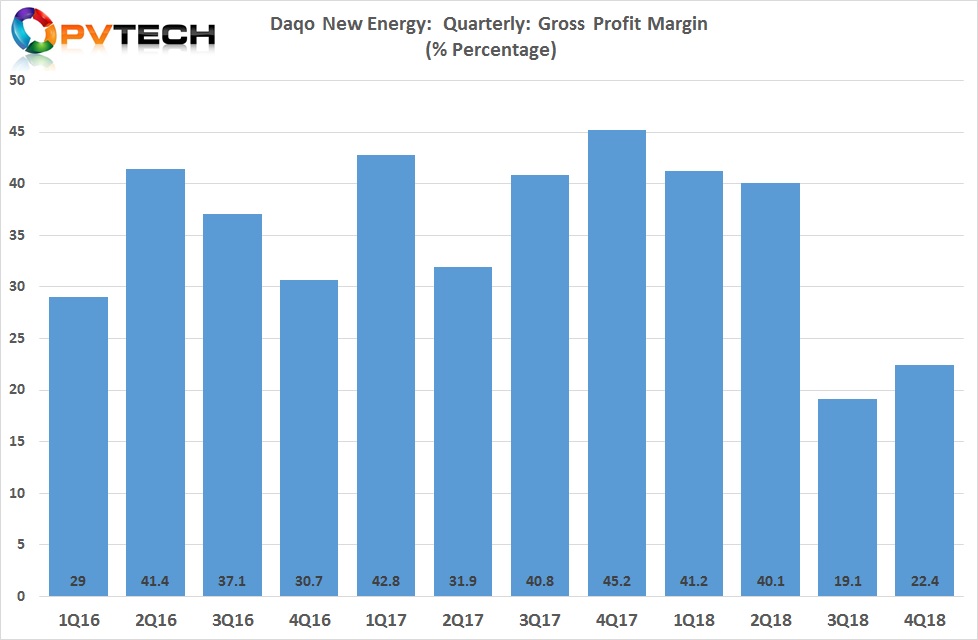 Full-year 2018
Daqo reported polysilicon production volume of 23,351MT in 2018, compared to 20,200MT in 2017. External polysilicon sales volume reached 22,521MT, compared to 17,950 MT in 2017.
Revenue reached US$301.6 million in 2018, compared to US$323.2 million in 2017. The decrease in revenues was primarily due to lower ASPs, partially offset by polysilicon sales volumes.
Daqo reported a gross profit of US$98.1 million in 2018, compared to US$144.0 million in 2017. Gross margin was 32.5% in 2018, compared to 44.6% in 2017, due to the rapid decline in polysilicon ASPs.
Guidance
The company said it expected to produce approximately 8,500MT to 8,700MT of polysilicon and sell approximately 8,400MT to 8,600MT to external customers during the first quarter of 2019.
Daqo expects to produce approximately 37,000 to 40,000MT of polysilicon in 2019.