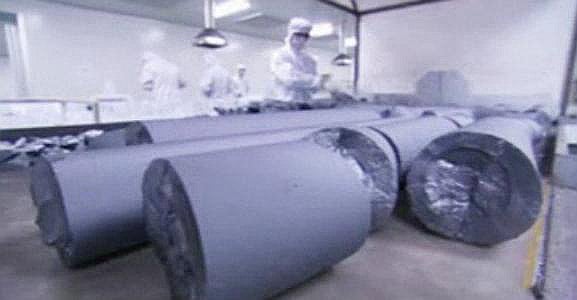 China-based polysilicon producer Daqo New Energy reported lower than expected revenue, gross profit and margins as polysilicon supply and demand dynamics proved volatile in the second quarter of 2017.
Daqo reported second quarter revenue of US$76.0 million, compared to US$83.8 million in the previous quarter. Gross profit was US$24.2 million, compared to US$35.9 million in the first quarter of 2017. Gross margin declined to 31.9%, compared to 42.8% in the previous quarter.
The company reported that the average selling price (ASP) of polysilicon was US$13.58/kg in the quarter, compared to US$16.66/kg in the previous quarter.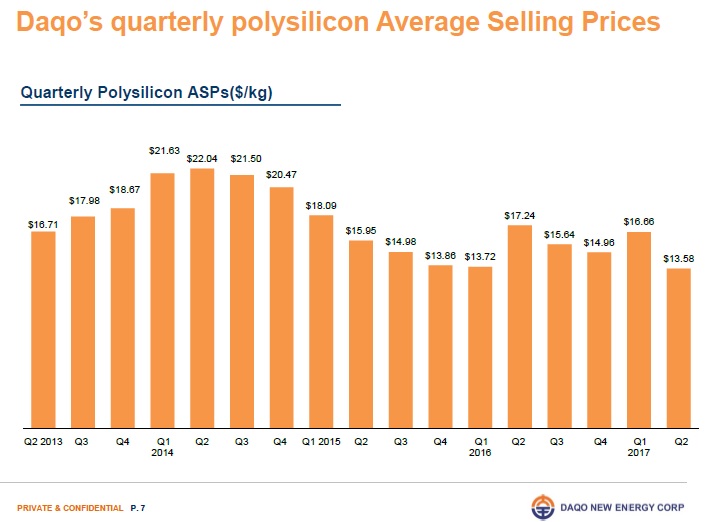 "Due to downstream customer inventory management at the end of the first quarter, ASP fell in April, but ASP started to recover in May" noted, Dr. Gongda Yao, Chief Executive Officer of Daqo New Energy. "Demand and pricing improved throughout the second quarter, with the ASP in June approximately 15% higher than that in April. So far in the third quarter, customer demand has remained robust with pricing continuing to improve."
Increased polysilicon shipments did not compensate for ASP declines. Daqo reported another record-high polysilicon production volume of 4,993MT, compared to 4,927MT in the first quarter of 2017.
External polysilicon sales volume also set a new record of 4,497MT in the reporting quarter, up from 4,223 MT in the previous quarter.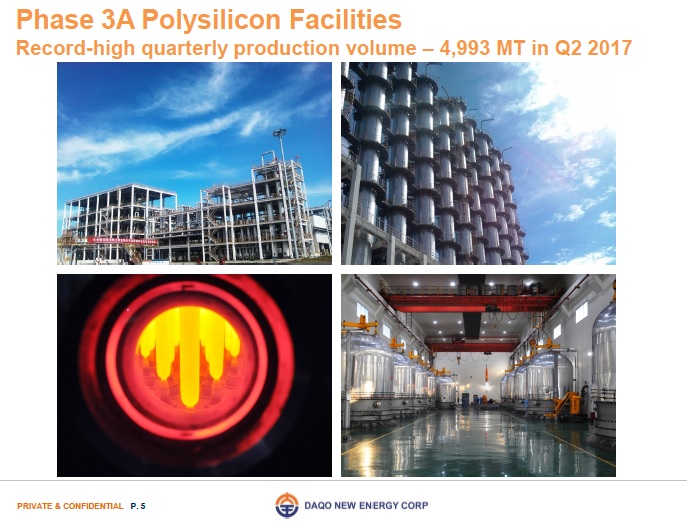 Costs associated with higher allocation of production for monocrystalline wafer demand also slightly impacted average production cost, which were slightly higher at US$8.53/kg in the quarter, compared to US$8.41/kg in the first quarter of 2017.
"During the quarter, we produced 4,993MT of polysilicon and sold 4,497MT to external customers. We also conducted various experiments to improve polysilicon quality, particularly for the monocrystalline grade polysilicon, which had a slight impact to overall production cost and volume. However, we are seeing meaningful quality improvements. Production volume as well as shipment of monocrystalline quality polysilicon hit a record high in June," added Dr. Yao.
Daqo also reported solar wafer sales volume of 27.0 million pieces in the quarter, which increased from 22.4 million pieces in the previous quarter.
Guidance
Daqo noted that its annual maintenance for its Xinjiang polysilicon facility was scheduled for late September and October, curtailing production volume for approximately two weeks. This would lead to polysilicon production in the range of 4,200MT to 4,500MT, while sales would be in the range of 3,700MT to 4,000MT for external customers in the third quarter of 2017.