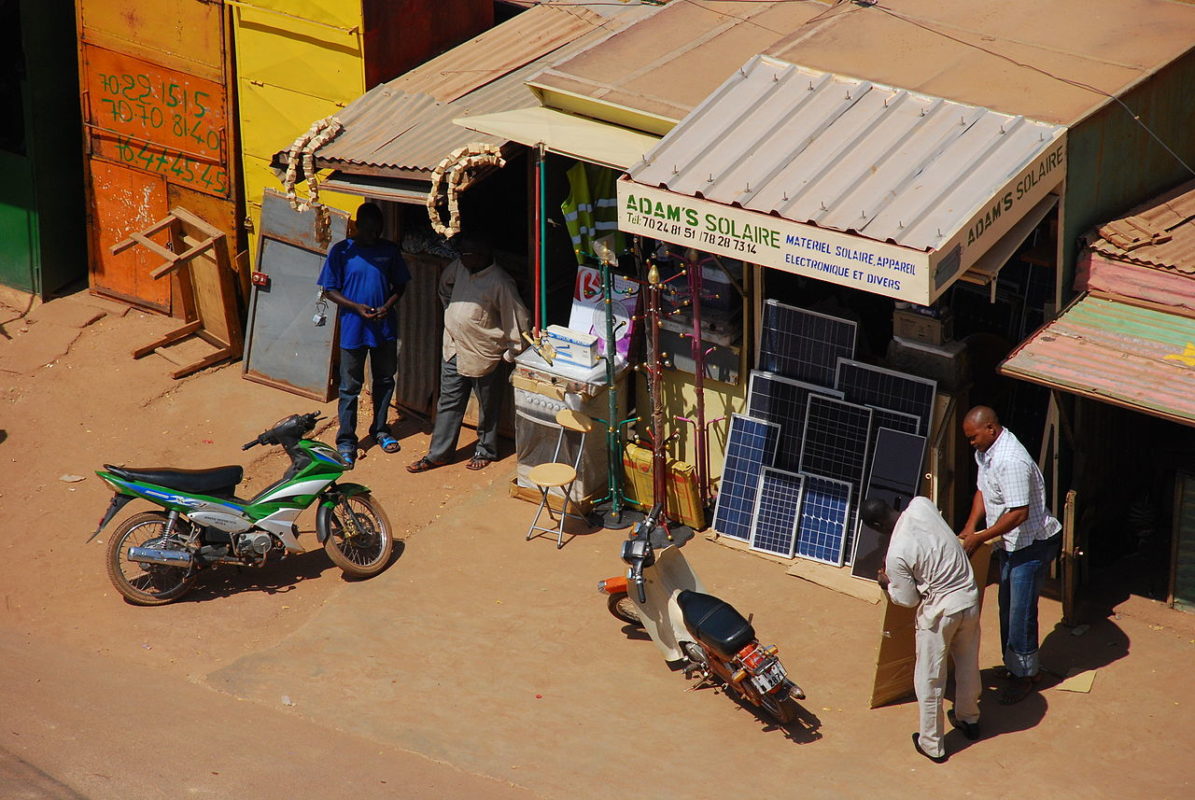 A 20-fold increase in off-grid power connections is among the aims of a plan to achieve universal energy access in Africa by 2025.
Launched at the World Economic Forum in Davos this week, the African Development Bank plan is being billed as a 'New Deal' on energy for Africa, in reference to former US president Roosevelt's plan to rebuild the US economy after the Great Depression of the 1930s.
By 2025, the plan envisages 160GW of new grid-connected generation capacity and 75 million new off-grid power connections, a 20-fold increase in today's number, the ADB said.
While no specific targets are given, the ADB envisages solar playing a key role in the delivery its overall figure, highlighting the 10TW of solar potential it says the continent offers.
ADB president Akinwumi Adesina said the first aim of the endeavour would be to mobilise the necessary money to finance the target.
"We need a total of US$60-90 billion a year, compared with the US$22 billion invested in the sector in 2014," he said. "This money will come from a variety of sources. First, we will work with other multilateral and bilateral financial institutions to see if we can get investment into the power sector to triple on an annual basis."
Adesina said African governments had a key role to play in making up the funding shortfall. "If Africa were to increase its annual spending on energy from 0.4% of GDP to 3.4%, this would solve the problem completely. This could also be done by putting an end to subsidies for products such as kerosene and diesel. Finally, the private sector is very willing to play a significant role. This will require changes in regulation to make the sector more attractive for private capital, but we have seen many examples of significant capital flow where regulations are appropriately structured," he said.
The bank said it would establish a new partnership of relevant actors to coordinate the necessary policy and financial measures needed to realise the plan.
Adesina said this would bring together the many existing groups and initiatives focused on energy issues in Africa – the G7's Africa Renewable Energy Initiative, the UN's Sustainable Energy for All initiative, the US Power Africa programme, to name a few.
"The task is to point them all in the same direction. So the New Deal is an African-led initiative to mobilise political will and financial support to solve Africa's energy challenges," Adesina said.
ADB said it would coordinate the plan and invest US$12 billion into the process over the next five years.
Christine Eibs Singer, global advocacy director for campaign body, Power for All, said although the plan contained no specific targets, solar and other renewables would play a central role in delivering it.
"Renewables will be critically important. Published details of the New Deal for Energy in Africa don't define the role of renewables, either for grid or off-grid. Yet solar (both utility and rooftop) and renewable micro-grids (including solar, hydro, wind and biomass) must all be central to achieving universal energy access. The Africa Renewable Energy Initiative launched at COP21 showcased clear ambitions in relation to renewable energy and the New Deal specifically profiles Africa's largest Pay-Go solar provider, which has enabled 250,000+ people to access clean energy, as aspirational," she said.
Key to achieving the aims of the plan witll be the extent to which the ADB can bring together the main players, Eibs Singer added: "Alignment among development partners, particularly with Power Africa and DfID's [the UK Department for International Development] Energy Africa programme, will be critical to achieving action. Each country needs support to develop, finance and operationalise national energy access plans. Commitments must be leveraged to build the enabling environment and private investment flows needed to achieve these ambitious targets."
The role of solar and other renewables in helping Africa meet growing demand for power will be under discussion at the second Solar & Off-Grid Renewables West Africa event on 19-20 April in Accra, Ghana. Hosted by PV Tech's publisher, Solar Media, the event will bring together high-profile speakers from the top levels of government and industry. Further information is available here.