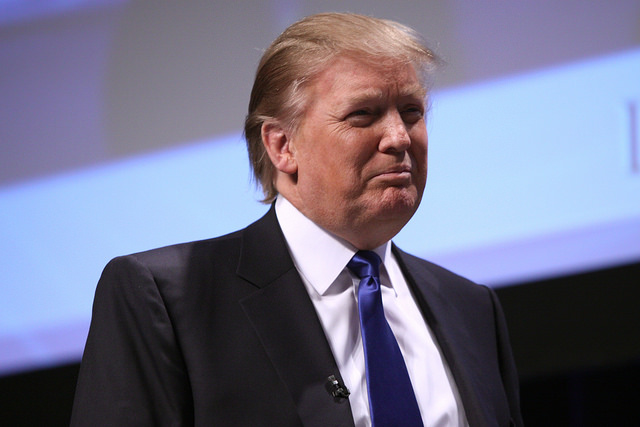 Over 600 US businesses and investors have called out president-elect Donald Trump for his climate change denial, urging him to move to a low-carbon economy.
Known as 'Business Backs Low-Carbon US' the open letter contains hundreds of signatures from Fortune 500 corporates including Starbucks, Nike, eBay, as well as family-owned businesses. As well as pushing for a low-carbon future, they also urged Trump to keep America in the Paris agreement, warning that a failure to do so will "put American prosperity at risk".
"We want the US economy to be energy efficient and powered by low-carbon energy," the letter said. "Cost effective and innovative solutions can help us achieve these objectives. Failure to build a low-carbon economy puts American prosperity at risk. But the right action now will create jobs and boost US competitiveness."
The future US president has famously said that climate change is a "hoax" invented by China. Clearly not on the same page, Beijing announced last week that it's investing the equivalent of US$360 billion in renewable energy by 2020. Topically, a memo penned by Trump's energy transition team revealed that the administration plans to roll-back any existing climate regulations – including the Clean Power Plan and Paris Agreement.
With tens of billions of dollars of US renewable energy investment in the works this year alone, and far more globally, the question for American political leadership is whether they want to harness this momentum and potential for economic growth.
It is critically important to realise this is an opportunity that state policymakers can take advantage of, too, not just national leaders" ~ Jonas Kron, signatory and senior vice president at Trillium Asset Management.
The business leaders and investors that contributed to the joint statement pleaded for the individuals soon to be the political leaders of the US to continue policies that promoted a low-carbon economy, both domestically and abroad.
The letter attempts to appeal to Trump, as a businessman, in hopes that he will heed the advice of those likeminded in the commercial sense, and understand that climate change is a real threat to the economic health of the country.
Investors who have signed the letter collectively manage more than US$2 trillion and include the New York State Common Retirement Fund and the California State Teachers Retirement System.
The petition was originally released in the immediate aftermath of the election. Since it was published, Trump has elected cabinet members who are overtly hostile towards environmental regulations and climate science; including Scott Pruitt – the attorney suing and soon to head the EPA, Exxon Mobil's Rex Tillerson and Rick Perry, the future energy secretary and former governor of Texas.