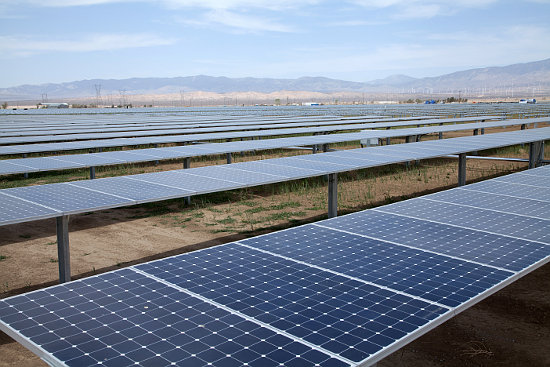 Updated: According to the latest analysis by Deutsche Bank and in contrast to market research firms, Bloomberg New Energy Finance (BNEF) and GTM Research the US solar market is expected to grow in 2017, heralding in the last 'gold rush' period through 2020.
Deutsche Bank analyst, Vishal Shah said in a research note that PV module and inverter price declines would drive improved solar economics in 2017 and result in continued strong demand seen in the US market in 2016.
Shah noted: "This precipitous decline in module prices is also accompanied by a sharp decline in inverter prices, especially in the utility-scale and C&I [Commercial & Industrial] markets. As a result, we expect solar economics in several U.S. markets to improve significantly over the next 12-18 months. Our analysis suggests that project returns in the U.S. could likely exceed the returns solar developers achieved in other markets during prior cycle peaks and these returns are unlikely to improve as incentives gradually decline or net metering phases out. As such, we expect the final "gold rush" in the U.S. market to begin in 2017.
However, BNEF has recently cited the US ITC extension as "hurting" solar growth in 2017, due to the urgency to complete projects ahead of future ITC cuts is several years away. According to BNEF, overall US solar demand in 2017 is set to experience its first major slowdown after years of strong growth. BNEF also expects the US residential solar market to stay steady at around 2.8GW in 2017, a 0.3% increase over 2016 forecasts.
GTM Research had been the first firm to warn of a slowdown in the US market in 2017, citing utility-scale project slowdowns after the ITC extension at the end of 2016. The market research firm expected the overall US solar market to decline from around 14GW in 2016 to levels of around 7 to 8GW last seen in 2015.
Update: However, GTM Research has since told PV Tech that it latest forecast was closer to a flat year in 2017, compared to a dramatic drop. The research firm is guiding installs at 13.7GW in 2017, down slightly from 13.9GW in 2017.
A major decline in US installations is expected to occur in 2018, yet rebound to around 15GW in 2019 and over 17GW in 2020.
Deutsche Bank said it estimated around 8GW of primarily utility-scale projects were under various stages of development in Texas alone, while nationwide that figure stood at around 31GW, which would translate into a relatively flat 2017 market with 2016 but generate strong growth over the next three years.
"For 2018-20, we expect strong growth in all segments, and raise demand estimates from 13.2GW, 15.2GW and 17.4GW to 16.5GW, 18GW and 19.7GW respectively," noted Shah.
Deutsche Bank's forecast would seem to be the more bullish, currently.
PV module price declines steeper than expected
Only a month ago, Deutsche Bank's Shah noted that industry participants at the SPI 2016 exhibition in Las Vegas expected average PV module prices to approach US$0.35c/W within the next 6-9 month timeframe, down from US$0.60c/W at the end of Q2, 2016.
However, Shah said in the latest report that US module prices had already declined by nearly a third in the Q3 to US$0.40c/W and were set to decline further to US$0.35c/W in the fourth quarter of 2016.
Solar Media is hosting the third Solar Finance & Investment USA conference in New York on 25-26 October 2016.