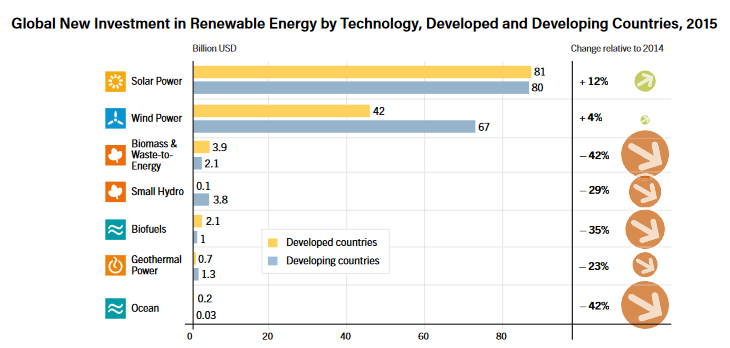 Investment in renewable energy from so-called developing countries exceeded investments from developed countries for the first time ever in 2015, according to a report from the Renewable Energy Policy network for the 21st Century (REN21).
The 'Renewables 2016 Global Status Report' found that the developing world, including China, India and Brazil, committed a total of US$156 billion into the sector, up 19% compared to 2014.
In contrast, renewable energy investment in developed countries altogether declined by 8% in 2015, to US$130 billion. The major decrease was seen in Europe, which was down 21% to US$48.8 billion.
Meanwhile, South Africa, Mexico and Chile all saw significant increases, while other developing countries that saw more than US$500 million invested in 2015 included Morocco, Uruguay, the Philippines, Pakistan and Honduras.
2015 was a year that saw once again the highest ever solar capacity additions. It was also the leading technology by far in terms of money committed, accounting for US$161 billion, up 12% over 2014. Solar therefore also accounted for more than 56% of total new investment in renewable power and fuels.
REN21 noted that global investment in renewables climbed to a new record level, despite the plunge in fossil fuel prices, the strength of the US Dollar, which reduced the dollar value of non-dollar investments, the continued weakness of the European economy and further declines in per unit costs of wind and solar PV. The types of investors also saw diversification with more private investors than seen previously.
The report also cited the series of announcements during 2015 on long-term power purchase agreements for solar and other renewables seeing the lowest-ever prices. The Middle East, the US and India have all seen significant drops in solar power tariffs or seen record lows last year as well as in 2016.
REN21 claimed that by the end of 2015 renewables capacity was standing at enough to supply roughly 23.7% of global electricity, with hydro at 16.6%. Wind and solar also accounted for 77% of new installations in the power sector.
The vast majority of countries worldwide had renewable energy policies in place by the end of 2015, meanwhile cities and municipalities have also become key drivers of renewable energy policies. Employment in the sector increased to 8.1 million jobs.
Finally, in its 'guidance for policy makers' REN21 stated: "Fossil fuel subsidies have to be phased out, as they distort the true costs of energy and encourage wasteful spending and increased emissions. Fossil fuel subsidies also present a barrier to scaling up clean energy by: decreasing the costs of fossil fuel-powered electricity generation, thereby blunting the cost-competitiveness of renewables; creating an incumbent advantage that strengthens the position of fossil fuels in the electricity system; and creating conditions that favour investments in fossil fuel-based technologies over renewables."