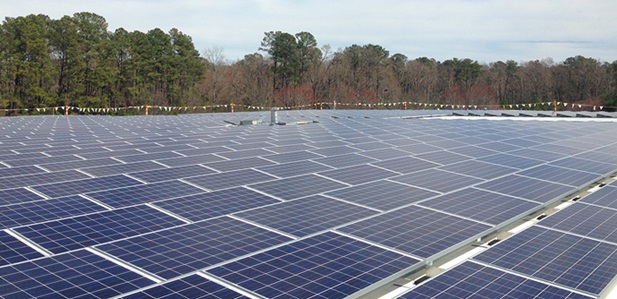 Dominion Energy will develop a series of PV projects to help serve a new data centre that Facebook plans to develop in eastern Henrico Couty, Richmond, Virginia.
This will be Facebook's eight data centre in the US, and it comes with an innovative new renewable rate option, 'Schedule RF', designed by Dominion Energy Virginia and Facebook, that would also benefit other large companies looking to offset power usage with renewables.
A Dominion release stated: "To qualify for the voluntary and experimental rate option, a customer must bring new electrical load and agree to purchase environmental attributes from renewable energy sources as defined in the Code of Virginia."
Robert M. Blue, president and CEO of Dominion Energy's Power Delivery Group, said: "Access to clean energy is joining reliability and price as important considerations when businesses decide to locate their operations. We are pleased we have been able to develop a solution for Facebook that meets all those requirements and creates a model that can be used by other large businesses as well. It opens the door to attracting more businesses and more jobs for the communities we serve."
The Facebook data centre would be served under a new renewable rate option called Schedule RF — which Dominion Energy plans to file with the Virginia State Corporation Commission in late October. If approved, Schedule RF would allow Facebook to offset its annual energy needs with clean, renewable energy delivered to the grid, as well as create opportunities for other large companies wishing to make the same commitment — providing broader economic benefits to all of Dominion Energy Virginia's 2.5 million customers as a result.
Blue added: "Facebook is the latest partner we have in the renewable energy arena. We remain ambitious and forward-thinking, and welcome any business or corporation to come to Virginia and see what we have to offer."
Local reports suggested that the solar portfolio could be as much as 300MW with Facbook's data centre using as much as 130MW of that capacity.