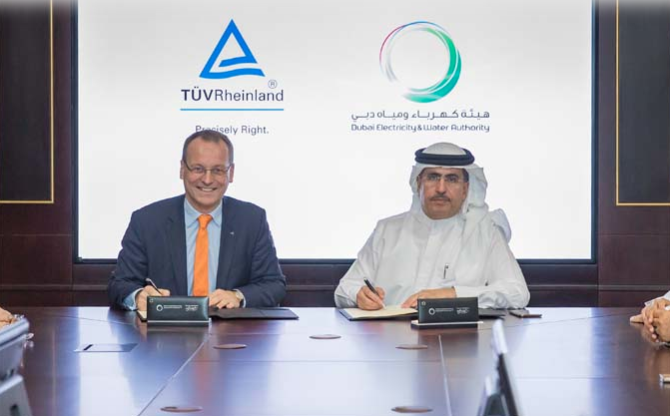 Dubai Electricity and Water Authority (DEWA) has signed a memorandum of understanding with Germany-based technical and consultation services provider TÜV Rheinland to work together and exchange knowledge on R&D, regulations, environmental protection and business support in the energy sector.
The MoU covers multiple energy sources including solar energy, energy storage systems, smart and digital networks, home automation, Internet of Things, wind energy, cybersecurity, oil & gas, regulations and training. It will also cover the development of new standards in preparation for the issuance of local legislation for networks and systems, solar systems, electric cars, environmental protection and measuring the environmental impact, and other related areas.
Saeed Mohammed Al Tayer, MD and CEO of DEWA, said: "The aim of this MoU is to have an insight into the future and adopt innovation to enhance sustainable development in all vital sectors. This will support the goals of the UAE Centennial 2071, and the UAE Vision 2021 for our country to be amongst the best countries in the world."
DEWA has also now launched Digital DEWA, the digital arm of the utility.
Al Tayer added: "DEWA is leading the global transformation efforts for utilities around the world and is redefining the concept of utilities to create a new digital future for Dubai. DEWA will disrupt the entire business of public utilities by becoming the world's first digital utility to use autonomous systems for renewable energy and storage." added Al Tayer.
Dr. Michael Fübi, chairman of the executive board of management of TÜV Rheinland, said: "We are delighted to extend our cooperation with DEWA, one of the world's leading service providers, through this MoU that will allow us to exchange expertise and knowledge and achieve our shared goals in many areas within the energy sector. Through this collaboration, we will provide our expertise in consultancy, training, testing, certification and standards to contribute to the promotion of energy sector in Dubai, along with the provision of integrated and sustainable services of the highest international standards."
Last November, the Bureau of Indian Standards (BIS) recognised TUV Rheinland's PV testing laboratory located in Bangalore, India, so that the lab was authorised to conduct testing of solar modules in India.