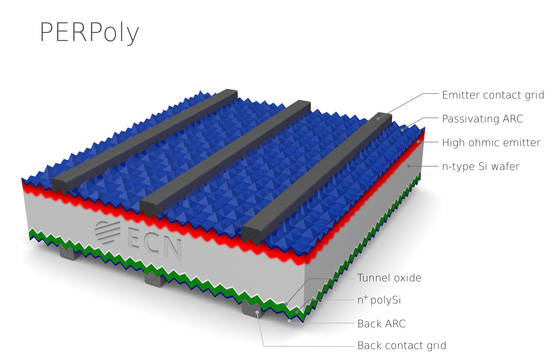 ECN (Energy research Centre of the Netherlands) and PV equipment supplier Tempress Systems, a subsidiary of Amtech Systems, have developed a new process that reduces solar cell recombination losses, boosting cell efficiencies.
The partners said that deposition of an ultra-thin polysilicon layer between the silicon wafer and the backside metal contacts on a conventional n-type monocrystalline solar cell significantly reduced recombination of the light-generated electrons, enabling a cell efficiency of 20.7%, with a possible roadmap towards cell efficiencies of 25%.
Bart Geerligs, senior researcher at ECN said: "An important advantage of the solution is the possibility for integration with existing mass production processes. Therefore it is not necessary to introduce much new process equipment. This innovation leads to robust improved results with perspective for lower electricity costs. The technology 'stretches' the efficiency limits of current solar cell technology. We have achieved a cell efficiency of 20.7% using this technology, and we expect to continue to make fast progress towards 25%."
The partners noted that although the technique had already been applied in microelectronics and solar cells in the laboratory, this was the first time it had been implemented with production-scale tools and solar cells.
"Scaling up from a laboratory scale to an industrial process is often the biggest barrier for a successful implementation of a new promising technique," added Martijn Lenes, development engineer at Tempress. "Therefore Tempress first used a prototype machine to see if the required layers can be produced simultaneously on a large enough scale. Once proven, we worked together with ECN to integrate these layers in a viable industrial production process."
Researchers from ECN and Tempress presented the results at the Silicon PV/nPV conference in Chambéry France this week.