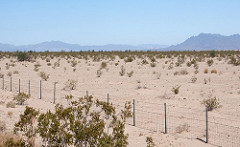 EDF and Shell have signed a 15-year power purchase agreement for a 132MW segment of the Palen Solar array under development in California.
The duo's respective North America business units have penned the deal, which will see Shell procure power directly from the EDF-developed site once generation commences by the end of 2021.
The 132MW tranche is known as Maverick Solar 7 but is part of the wider Palen Solar project which will have a total generation capacity of 500MW.
The deal expands on a previous contract between Shell and EDF for the power from a further section of the site, with Shell becoming the sole off-taker for Maverick 7, acquiring all generated power and renewable energy credits.
Dai Owen, VP for power marketing at EDF Renewables, said the Palen project demonstrates the utility's long-term commitment to solar in California, adding that it "uniquely positions" the firm to help companies meet obligations under California's Renewable Portfolio Standard (RPS).
Passed by Governor Jerry Brown in September last year, California's RPS mandates for the Golden State to achieve a zero-carbon electricity grid by 2045.
Located in Riverside County, California, Palen Solar was granted approval in October last year.