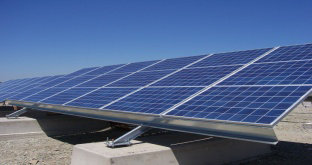 The EDF Group, through its subsidiary EDF Energies Nouvelles, intends to develop and build 30GW of solar plants in France between 2020 to 2035 on top of its other worldwide commitments.
In statement launching the EDF Solar Power Plan, the firm said this capacity is four times greater than France's current capacity, which as of 30 June 2017, stood at 7.4GW.
EDF's plan is also expected to create tens of thousands of jobs in France during the construction period and the firm is targeting a "vigourous rate of expansion". It will use its portfoilio of land assets to build solar near nuclear power plants. It will reconvert industrial wasteland or dismantled sites, or develop floating solar plants on hydroelectric sites. EDF will also be working together with the public authorities to identify suitable parcels of land for the construction of new solar facilities.
Jean-Bernard Lévy, EDF chairman and chief executive, said: "The Solar Power Plan is of an unparalleled scale and marks a real turning point in EDF's development of solar power capacity. It is a concrete illustration of the goals outlined in the Group's CAP 2030 strategy, which was initiated in 2015 and aim to double the Group's installed renewable energy capacity by 2030. EDF now has a new roadmap in renewables for the next fifteen years."
Antoine Cahuzac, group executive director in charge of renewable energies and chairman-chief executive of EDF Energies Nouvelles, said: "This effort comes in addition to our plans for expanding on wind and hydro capacity. It is a further sign of the Group's commitment to the energy transition."
The EDF Group is involved in supplying energy and services to approximately 37.1 million customers, of which 26.2 million in France. The Group generated consolidated sales of €71 billion in 2016.