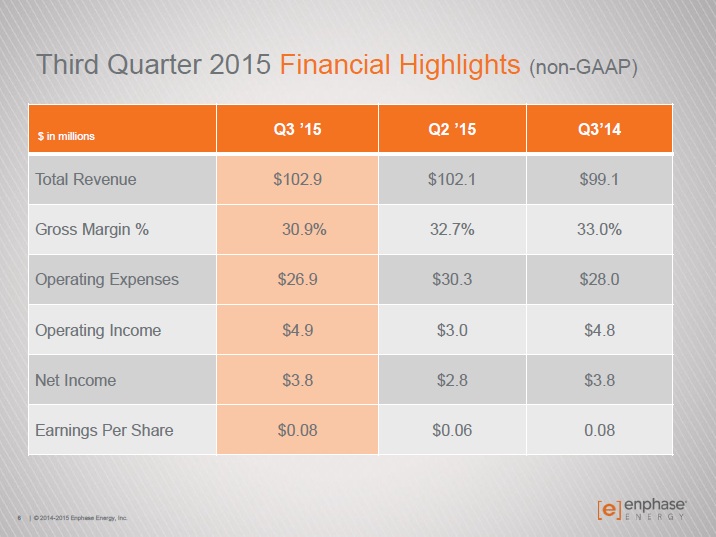 Leading microinverter manufacturer Enphase Energy said it would aggressively lower pricing to retain market share as competition intensifies across its key markets such as the US and revenue growth stalls.
Enphase reported third quarter 2015 revenue of US$102.9 million, an increase of 4% compared to the prior year period and only an increase of 1%, compared to the previous quarter.
The company has dominated the US solar microinverter market, due to its first-mover advantage, but the US downstream market is currently booming although this is not reflected in its stalling sales growth.
GTM Research has forecast that the US residential market is expected to grow by around 50% growth in 2015, while the overall US end market demand is expected to hit a record 7.7GW in 2015, up 24% from 2014.
With sales stalling due to increased competition and the loss of its largest US-based customer, Vivint Solar to rival Solaredge, Enphase guided fourth quarter sales of US$62 million to US$70 million, despite financial analysts' average expectations of sales in the US$122 million range for the quarter, given the growth in the US market.
To combat competition and inventory build, Enphase said that it was lowering microinverter prices significantly, hitting gross margins.
In its third quarter earnings call, Paul Nahi, president and CEO of Enphase said: "The second half of 2015 is turning out to be more challenging than expected. Pricing pressure on US business continues to increase. Forex is putting pressure on our international business margin and pricing and a share loss of our largest customer continues to affect our year-over-year growth. To accelerate the expansion of our business, we've adopted a more aggressive pricing strategy. Until recently, we've been able to outpace price reduction with cost reduction. With our new strategy, it will be more difficult to keep pace with cost reductions. As a result, we expect our gross margin to drop to the mid-20s."
The company actually guided gross margins would be in the range of 23% to 26%, down from 30.9% in the third quarter of 2015.
Nahi also noted that ASPs have declined 18% to 20% in the last 12-months and could exceeded that rates of decline in 2016.
The pricing and margin squeeze would result in the company drawing down US$17 million on an existing bank credit facility as it did not expect to generate positive cash flow from operations in the fourth quarter of 2015 and incurred a US$6.0 million cash burn from operations during the third quarter.
Enphase shipped a total of 219MW (AC) of microinverters in third quarter of 2015, up 28% on a year-over-year and 12% sequentially, equivalent to approximately 950,000 units.