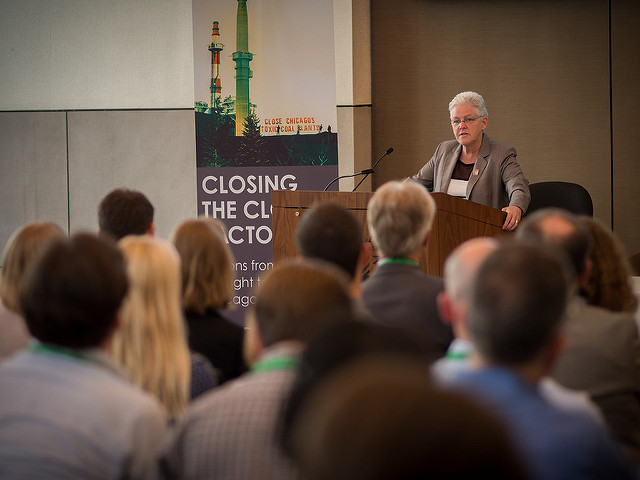 Despite confirmed plans to dismantle the Clean Power Plan, and intentions to withdraw the US from the climate accord and rejuvenate a dying coal industry, president-elect Donald Trump will not succeed in derailing the clean energy industry's progress, according to Environmental Protection Agency (EPA) administrator Gina McCarthy.
The EPA is the chief architect of Obama's Clean Power Plan; the cancellation of which is top of the to-do list of the incoming president. In a lengthy video message outlining his initial priorities when in office, Trump confirmed that he would eliminate any existing regulations that "restrict" American energy production.
Regardless, whilst the extent of Trump's mitigating effects on the clean energy transition is still a moot point, McCarthy has joined the myriad of industry experts who assert that the transition from fossil fuels to renewable energy sources is inevitable; Trump or no Trump, Clean Power Plan or no Clean Power Plan.
Without naming Trump specifically, McCarthy said "the inevitability of our clean energy future is bigger than any one person or nation", but that President Obama used the CPP as "a sign of US commitment" to acting on climate change.
McCarthy went as far as to downplay the impact of the CPP, saying naysayers "give us too much credit. The CPP was designed to follow the clean energy transition that was already underway, the one that the energy market depends on and the one that the energy market will continue to demand.
"Clearly there is more going on in our world and our energy sector than the CPP can account for," she continued. "And look, I'm really not trying to say that the CPP isn't important. You know that. I love it, I think it's great. But the truth is that if I were to stand here and explain the significant of virtues of CPP it would keep you here for quite a lengthy piece of time, and I can't fit it into a sound bite that I do have time for."
In what is speculated to be her last speech in her current role as administrator before she is succeeded by a newcomer to be picked by Trump, McCarthy noted that 24 states already had lower emissions in 2015 than required by 2022 under the plan.