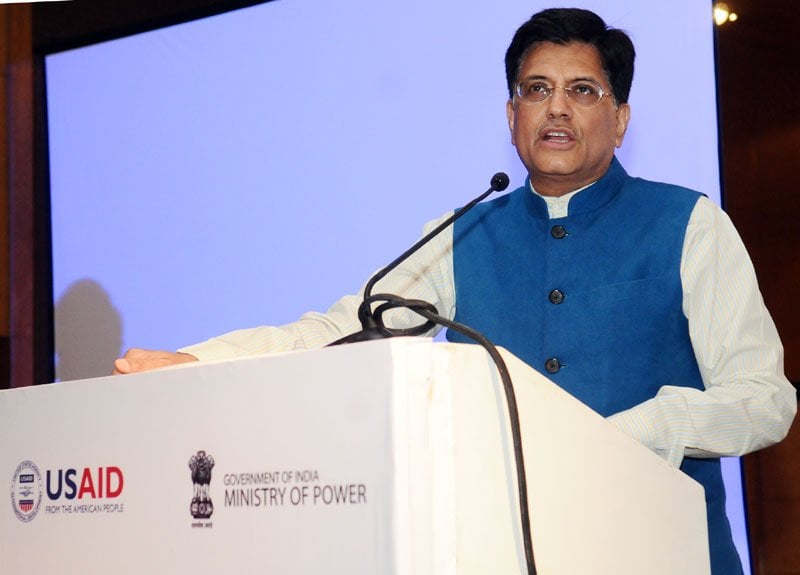 Every distribution company (Discom) in India will be making a profit by 2019, Indian power minister Piyush Goyal has claimed.
As of last November, India's Discoms had accumulated losses of roughly INR3.8 trillion (US$57.8 billion) and swiftly rising outstanding debts of INR4.3 trillion (US$65.4 billion). Solar industry commentators have consistently cited poor Discom health as a major barrier to PV deployment, with many reluctant to purchase solar power and solar developers apprehensive about delayed payments from the Discoms.
However, under Goyal's guidance last year, the Ministry of Power released a new package named Ujjwal Discom Assurance Yojana (UDAY) aiming to help wipe out the losses of Discoms by 2019. UDAY is not compulsory, although the majority of states have signed up to the scheme over the last few months.
Speaking at 'Power Focus Summit 2016', Goyal said: "I am confident that before 2019, every Discom in this country will be making profit.
"The agreements signed with the states specify the timelines and the reduction in losses to be achieved. The central government will monitor their work very religiously and those states that are sincere in serving their people will get full support of the central government, irrespective of political affiliations. I am sure more states including Kerala and Karnataka will join UDAY."
Goyal also took to Twitter to press home his point:
UDAY is entirely a bottom-up approach. States, DISCOMs, bankers, suppliers all sat down and created UDAY.

— Piyush Goyal (@PiyushGoyal) February 23, 2016
Furthermore, he claimed: "UDAY is not about politics. It is all about good economics."
Goyal also updated on the ongoing rural electrification programme for which there is now a live app showing how many villages are being electrified on a daily basis. Goyal and prime minister Narendra Modi made it a priority to bring power to all the remaining 18,452 villages without electricity within 1,000 days of independence day in India (15 August). Goyal said his officials are now planning to achieve this target within 720 days instead.
Goyal added: "The figure, as we speak, of villages that have already been electrified, as of today, is 5,542 villages, that's one-third of the total. There are another 1,390 villages, where electrification work is done, they are under energization".
On a visit to Australia last week, to share expertise in the energy sector, Goyal also said: "I think across the value chain in energy, be it coal or gas, be it the renewable energy sector, be it smart grids or the ability to bring in more efficiency in our energy systems, the integration of renewables with the power transmission grid, there are many areas that I believe we can work together with Australia on."
Goyal has also said: "Reforms are not about price increase or privatisation. Reforms should remove the inefficiencies in the system."
Finally, in reports, he has also suggested that India should be looking at installing a smart meter in every home.
Ministry of New and Renewable Energy (MNRE) also this week released state-specific targets under the Renewable Purchase Obligation (RPO) and ministers have asked states to come up with 'Action Plans' to achieve the minimum 8% solar RPO.
Chandigarh is also planning to make rooftop solar mandatory, becoming the second municipality after Haryana to make the move.