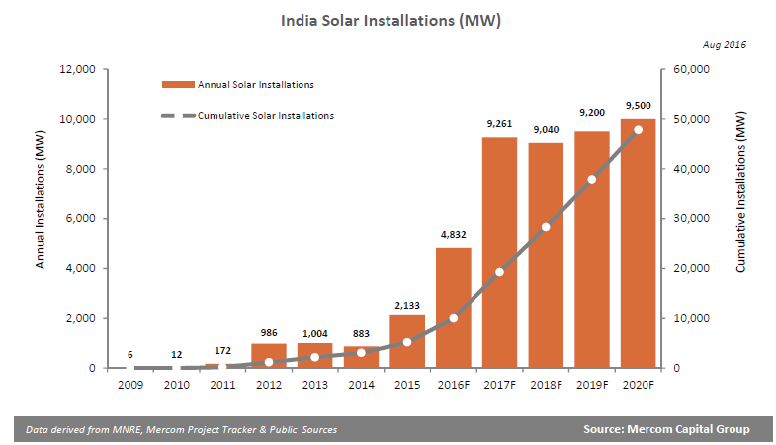 Falling Chinese module prices may come to the rescue of solar developers in India who have put in aggressive bids on the assumption that solar equipment prices will fall no matter what, according to Mercom Capital Group's latest market update.
The consultancy once again reported that projects won with tariffs below INR 5/kWh (US$0.075) have failed to obtain financing. Meanwhile banks say that a bid below INR 4.5 ($0.067)/kWh is still very aggressive.
Nevertheless, Mercom said falling module prices have "given a lifeline" to Indian developers. Chinese modules in India are currently available for ~US$0.39 (~INR26)/Watt and could drop further due to the massive oversupply situation in China.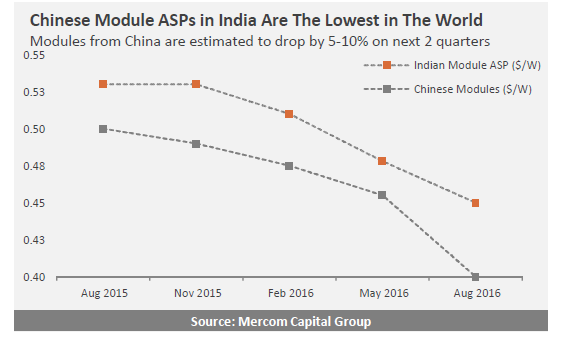 However, Mercom noted: "A module price movement in the other direction can be very dangerous, especially considering that modules make up almost 60% of project costs in India. However, developers should take advantage of the current situation."
The report comes just after it was revealed that China-based module suppliers have taken a 75% market share in India, a country which has also seen cell and module imports triple in a year.
On the other side, Indian manufacturers will find it difficult to compete with these falling Chinese module prices.
Market update
Mercom forecasts that there will be roughly 4.8GW of solar installations in India during 2016. As of August, cumulative solar installations were 8.1GW, with year-to-date installations of 2.8GW. Meanwhile, the solar project pipeline in India is now approximately 21GW. This includes 14GW under development and 7GW scheduled for auction.
At least three Indian states now have more than 1GW of installed solar capacity, however, Tamil Nadu has seen India's first curtailments of solar power. Here, the distribution company (Discom) is buying power at under INR 3/kWh on the exchange and curtailing power from a solar project, which is contracted for INR 7/kWh.
Mercom said: "Low power demand and availability of cheap power at exchanges is affecting solar uptake in Tamil Nadu and Rajasthan."
Nevertheless, there are no significant curtailment issues outside of Tamil Nadu and Rajasthan, although challenges with Discoms remain unique in every state. Another issue is delays with transmission infrastructure causing hold-ups in commissioning.
The Goods and Services Tax (GST) Bill recently approved by parliament stands to negatively affect solar developers with rising costs according to the energy ministry's own findings, but the implications are still unclear. The solar industry awaits clarifications over the next three months, because it is still not certain whether renewable energy equipment will be exempt from the GST.
Mercom also noted that the rooftop solar sector continues to struggle with current incentives failing to get the segment going. There are currently no subsidies available for commercial and industrial customers, which make up almost 70% of the rooftop market.
Consolidation
There is also an uptick in consolidation activity with Indian firm Welspun's portfolio being acquired by Tata Power for US$1.4 billion. Greenko is reportedly expected to buy SunEdison's India assets for US$1.3 billion. Furthermore, solar projects from several companies are reportedly for sale.
Mercom also welcomed the Solar Energy Corporation of India (SECI) announcement that it will set up a INR15 billion payment guarantee fund to ensure timely payment to developers for projects developed through Viability Gap Funding (VGF), which Mercom says may improve interest in VGF projects.
Meanwhile, there are less cases of solar park capacity being auctioned without grid connectivity already established, an issue that had previously caused complaints from the industry.
Perhaps worryingly, with Discom health consistently cited as a key issue for solar development in the long run, Mercom reported that banks have yet to see positive effects from the central governments UDAY scheme, which seeks to alleviate the Discom debt.