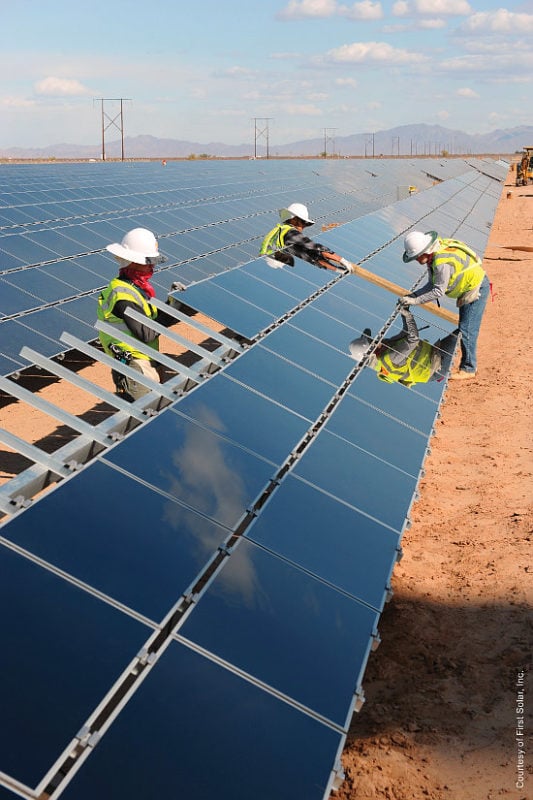 Thin-film module manufacturer First Solar has backed the petitioners in the Section 201 trade case, the first intervention the company has made so far.
Suniva and SolarWorld are asking for tariffs and either a quota or minimimum import price to be imposed on all foreign crystanillne silicon PV cells and modules. First Solar's CdTe products are not covered by the complaint.
In a letter to the International Trade Commission (ITC), First Solar CEO Mark Widmar said damage to the downstream industry was being "exaggerated" and that the US ought to secure a place for domestic solar manufacturing.
"Below, I offer several observations, but my overarching point is that the Commission should reject the notion that the US CSPV industry must be left to die so that the downstream solar industry may live. I firmly believe that the Commission can design an effective remedy that allows solar demand to continue to flourish," wrote Widmar.
Noting the different dynamics his company faces, Widmar suggested a better comparison for the US CSPV manufacturing landscape.
"The appropriate comparison is between US and foreign CSPV producers, and the pertinent question is why the latter have continued to expand production capacity despite years of low or negative returns on investment. The answer, in my view, is that the major foreign CSPV producers are not subject to the same market and capital constraints that apply to US CSPV producers. That is hardly the fault of US CSPV producers. Indeed, the unfair competitive situation confronting the domestic CSPV industry underscores the need for a fair and effective remedy," he added.
Widmar also put on the record his unhappiness with the approach of the Solar Energy Industries Association.
"…The injury to US CSPV producers cannot be remedied without addressing the CSPV imports that caused the harm. This should be obvious. However, we have been disappointed that some parties, including the Solar Energy Industries Association (SEIA), of which we are a member, have not engaged constructively on this issue. They first denied that CSPV imports had anything to do with the losses endured by the US CSPV industry and now, after the Commission's injury ruling, propose that imports – the cause of the injury – be exempted from any remedy."
He squarely lays the blame on Asian CSPV overcapacity calling it the "root cause" of injury.
Widmar has previously stated that the company would not exploit developers looking to secure module supply with "opportunistic" pricing.
"…An effective remedy on CSPV imports can indeed coexist with continued growth in US solar demand and downstream businesses. It is simply not true that any meaningful remedy on imports will necessarily cause outsized reductions in demand. Large-scale solar demand, for example, is driven today by the low levelized cost of energy (LCOE) from new solar plants. The impact of module cost on the LCOE of a solar plant has continued to decline in recent years, and today under 20% of the LCOE of a solar plant is attributable to the cost of the module. History further suggests that Respondents' fears of catastrophic demand destruction are exaggerated."