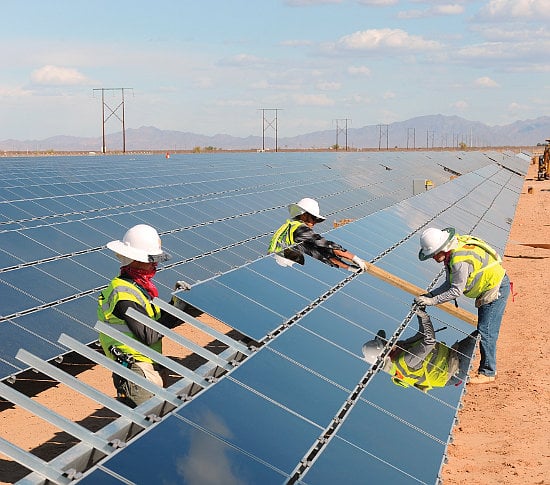 Leading CdTe thin-film producer First Solar reported several bombshells in releasing third quarter financial results. Amongst them was dropping around US$1.0 billion from its full-year revenue guidance and timing for the sale of its California Flats and Moapa projects into 2017 that help fill a looming revenue gap next year.
First Solar said that its net GAAP sales guidance has been revised down to within a range of US$2.8 billion to US$2.9 billion from the prior guidance of US$3.8 billion to US$4 billion.
The significantly lower 2016 guidance had several key elements, primarily due to project timing to complete the sale of the Moapa and California Flats PV power plant projects that shifted from late 2016 to possibly the first quarter of 2017.
The company noted that the Moapa project recently closed on tax equity financing for and First Solar had received an unspecified amount of the cash in the fourth quarter of 2016.
First Solar also noted that its remaining 34% stake in the Stateline project that is planned to be sold to its JV yieldco, 8point3 could occur before year end and that would result in earnings at or above the high end of its revised guidance range.
However, First Solar also noted that its re-evaluation of its production capacity requirements and planned migrations to its Series 5 and Series 6 modules, due to plummeting global PV module and PV power plant PPA (Power Purchase Agreement) prices set for conclusion on November 16, could also force further revisions to its latest guidance.
First Solar's management were keen in its third quarter earnings call to highlight the major projects revenue recognitions coming later than expected but have steadfastly avoided providing 2017 revenue guidance.
The plummeting global module ASP's which have dropped 15% in the first seven months of 2016, but the collapse in downstream project demand in China led to a further 15% ASP decline in August through September has already meant that First Solar has turned away from competing on price with projects that offer little margin expectation.
In the earnings call, Mark Widmar, CEO of First Solar said, "As we said consistently and reiterated on our Q1 2016 earnings call, when an oversupply situation exists, our strategy is to take a disciplined approach to the market. This means that we may walk away from module supply opportunity if the economics do not make sense for us. During the past quarter, challenging pricing conditions dictated that in certain situations we needed to apply this strategy, which has impacted our near-term bookings, but we continue to view this strategy as the most sensible long-term approach."
As a result, First Solar said that bookings in the third quarter were lower than expected, at approximately 250MW and that expected module shipments would be lower for 2016 than previous guidance of around 100MW. The company said that total shipments in 2016 were expected to be in the range of 2.8GW to 2.9GW, down from 2.9GW to 3.0GW.