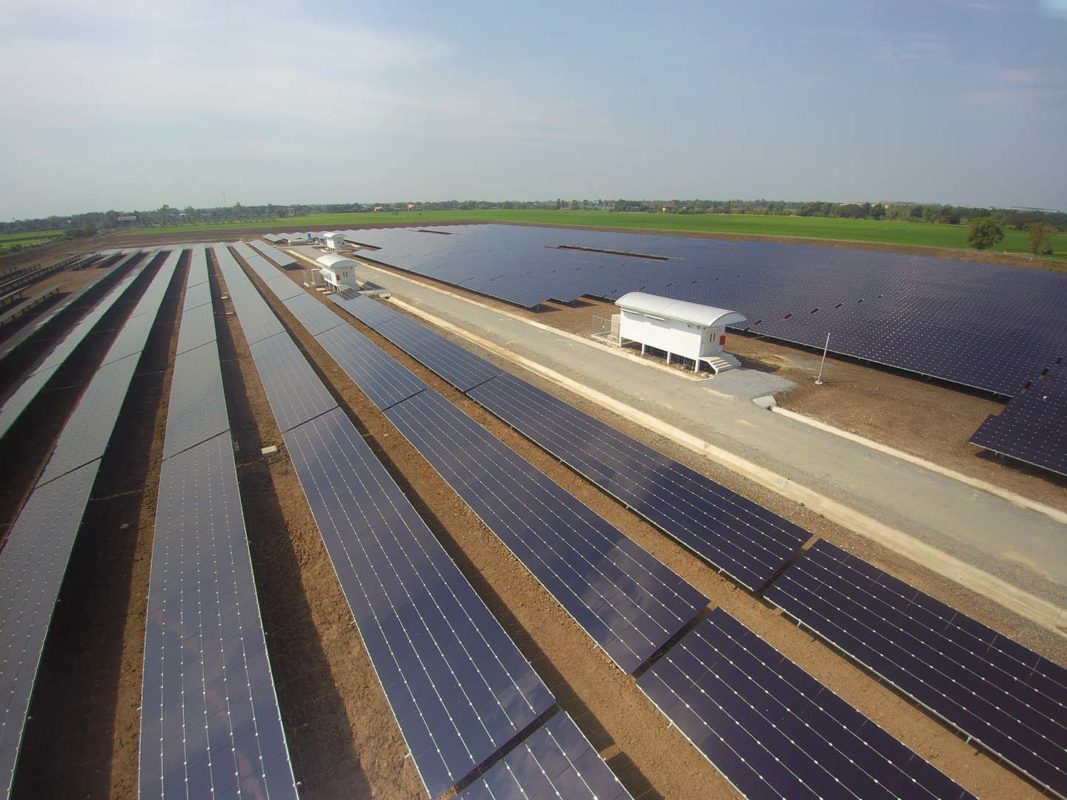 Leading thin-film PV manufacturer First Solar reported first quarter results ahead of expectations, primarily due to the sale and entire revenue recognition of its Moapa PV power plant project.
Selling PV projects, whether completed or at an early stage of development is expected to become a key strategy for First Solar over the next several years as it gambles its business success or failure on transitioning from its small-area Series 4 CdTe thin-film module format to the large-area, Series 6 at a cost of around US$1 billion.
With the ramp-down of Series 4 production having started late last year and expected to continue through 2018 and at least to mid-2019, revenue from Series 4 module sales will decline ahead of the Series 6 transition, compounded by continued ASP pressures.
Selling PV projects and potentially its 50% stake in its JV yieldco, 8Point3 as previously announced by the company would provide further liquidity while spending US$1 billion in capex over the next two years. First Solar ended the first quarter of 2017 with US$2.4 billion in cash and cash equivalents.
First Solar management noted in the first quarter earnings call that selling several projects to its JV yieldco would be unlikely, while external third party interest was growing in both the US and overseas, indicating asset sales of projects would be a key feature moving forward.
Indeed, should corporate tax reforms happen in the US under the new administration, First Solar could sell more projects such as in Japan and repatriate the cash. The company took a non-cash tax expense of US$196 million with the repatriation of US$750 million to the US from a foreign subsidiary in the fourth quarter of 2016.
Financials
First Solar reported first quarter net sales of US$892 million, an increase of US$561 million from the prior quarter primarily due to the sale of the Moapa PV project. This was offset by a US$179 million decrease in PV module sales in the quarter.
With the retreat in downstream project development, notably in the US, First Solar's module sales, despite the transition are an important source of revenue. The company noted that it had booked 600MW (DC) of new module orders this year to date. Module shipments in the first quarter of 2017 had been around 400MW.
The company reiterated that it still expected module shipments to be in the range of 2.4GW to 2.6GW in 2017. However, only 1.5GW of potential Series 4 module supply of 3.6-3.8GW through 2018 was currently under contract.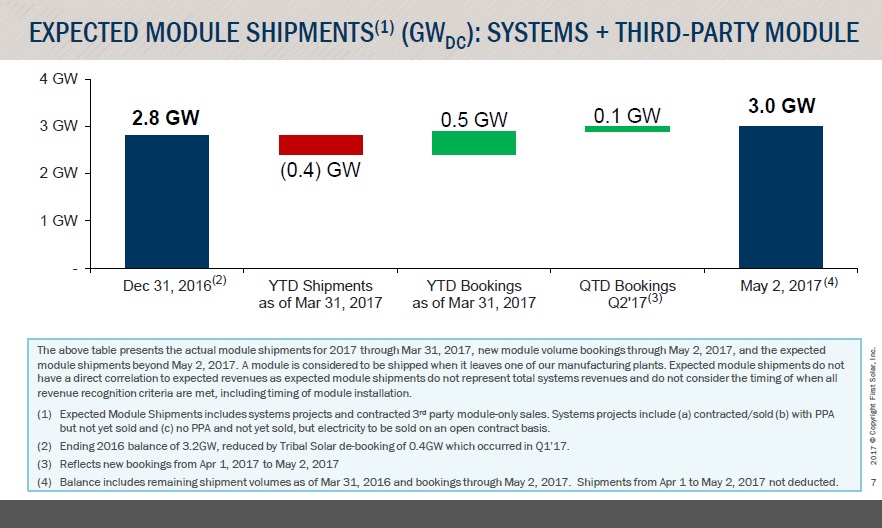 Gross margin for the first quarter was 9%, compared to 2% in the prior quarter, due to the large PV project sale in the quarter. Gross margin for the PV component segment was 26% in the first quarter, compared to 13% in the prior quarter.
The first quarter was also impacted by pre-tax restructuring and asset impairment charges of US$20 million. Excluding restructuring related items, operating income in the first quarter of 2017 was US$12 million, compared to an adjusted operating loss of US$90 million in the previous quarter.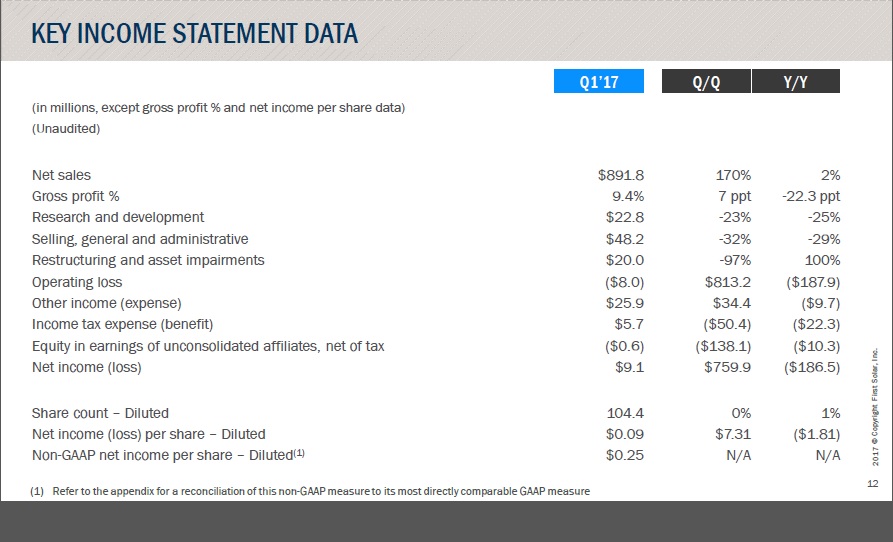 Guidance
First Solar noted that due to the improved visibility in expected sales of PV projects in 2017, sales guidance was increased by US$50 million to a revised range of US$2.85 billion to US$2.95 billion for the full-year.
Inline with higher project sale expectations, gross margin guidance was increased from 11 to 13% to 12.5% to 14.5%.