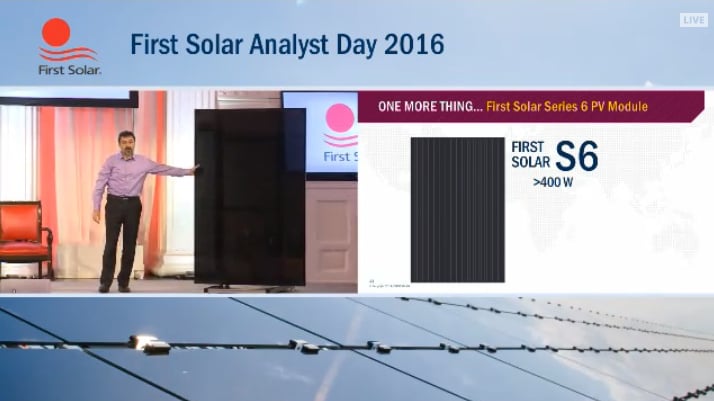 Leading thin-film PV manufacturer First Solar has said it wants to sell its share in its joint venture (JV) yieldco with SunPower to free-up funds to support its switch to manufacturing its large-area Series 6 CdTe modules.
SunPower also said that it and First Solar would coordinate a review of a possible sale to a third party.
First Solar also noted that it was planning to sell PV power plant projects at an earlier stage in the construction process to accelerate the return of capital from its systems business. This would mean that several projects offered for sales to 8point3 could be sold to other third parties, should the yieldco be unable to purchase the projects.
According to 8point3 it has agreed to waive the buying negotiation period with respect to First Solar's 179MW Switch Station project, which allows First Solar to find a potential third party to purchase the plant.
8point3 also noted that First Solar has formally offered its 280MW California Flats and 40MW Cuyama projects, currently included in the Right of First Offer (ROFO) portfolio, to the yieldco, yet these could also be sold outside the JV yieldco partnership, should the yieldco not purchase them.
"We remain committed to developing, constructing and selling utility-scale solar power plants," said Mark Widmar, CEO of First Solar. "Series 6 has the potential to be a transformational product and provide attractive returns to our shareholders. As we accelerate the cash conversion cycle from our systems business, we will further enable this important transition in our business. We want to thank SunPower for their partnership in forming 8point3, which has a portfolio of high quality solar assets and proven operating performance. We look forward to working cooperatively with them through this process."
The transition to Series 6 production is expected to cost over US$500 million in capital expenditures over the next two years.