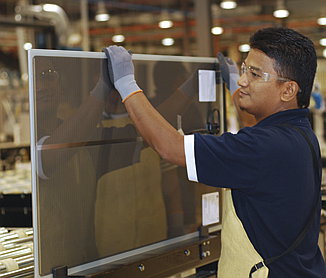 Leading CdTe thin-film producer and project developer First Solar expects to be operating all its production lines at full capacity in 2016.
First Solar said in last week's earnings call that the looming end to the US investment tax credit arrangement and efforts to rebuild its PV project pipeline after several mega-scale projects in the US were completed over the last few years has resulted in almost 2GW of fully contracted projects and 650MW of projects with completions during 2016.
With a nameplate capacity of around 2.7GW, First Solar is effectively "fully allocated for 2016", according to Jim Hughes, CEO of First Solar in the earnings call to discuss third quarter financial results.
The company noted in its earnings presentation that its average production utilisation rate across its production lines in the US and Malaysia were 94% in the third quarter, up from 85% in previous quarters, while production was 653.8MW (DC), up from 562.8MW(DC) in the prior quarter, a 16% increase due to "higher module efficiency, increased manufacturing capacity and less downtime for technology upgrades", added Hughes.
This meant production was 46% higher on a year-over-year basis, which included the restart of manufacturing lines in Malaysia, previously idled and the addition of new capacity and improved module efficiencies.
Module efficiency gains
Hughes also highlighted the module efficiency gains achieved by its latest efforts to upgrade all its production lines.
The production line average efficiency improved to 15.8%, up from 14.7% in the first quarter of 2015, while its best line average efficiency was 16.4% during the third quarter.
However, Hughes noted in the call that since the end of the third quarter the current fleet average efficiency has reached 16.1%.
Yet, Hughes also noted that the need to run lines at full capacity to meet demand in 2016 would lead to a halt of line upgrades in the first half of next year, so efficiency gains would not track those made in 2015.
"In the first half of 2016, we will prioritise full production utilisation in order to meet strong demand and then resume the implementation of new module efficiency programmes thereafter," added Hughes.
However, due to executing on upgrades this year, its capital expenditure targets had not been affected and expected to meet previous guidance of US$175 million to US$200 million.
Financial results
First Solar reported third quarter sales of US$1.3 billion, an increase of US$375 million from the second quarter of 2015. Gross margin was over 38%.
The increase in net sales from the prior quarter was due to initial revenue recognition on the sale of a majority interest in its partially constructed Desert Stateline project as well as higher third party module sales and an increase in systems revenue across multiple projects, according to the company.
Gross margin was over 38%, compared to 18.4% in the second quarter and was higher than expected due to the majority sale of the Desert Stateline project, improvements in systems project costs and a decrease in module collection and recycling obligations, which reduced cost of sales by US$70 million and operating expenses by US$10 million.
"Since the inception of the module end-of-life programme, we have continued to pursue engineering and process improvements to reduce the cost of collecting and recycling the modules," said Mark R. Widmar, CFO of First Solar. "Our continuous improvement efforts have resulted in an automated and continuous flow process, which is significantly lowering the cost of the end-of-life programme."
First Solar reported an operating profit of US$398 million compared to an operating profit of US$57 million in the prior quarter.
Order momentum
First Solar noted that its bookings in terms of expected revenue had increased to US$7.4 billion by the end of the third quarter, while potential bookings opportunities were said to have reached 17.4GW (DC), an increase of approximately 700MW from the prior quarter.
Mid-to-late stage bookings were said to have reached a record 3.9GW (DC) at the end of the quarter, up 900MW (DC) from the prior quarter.
International bookings were noted to have accounted for over 85% of the potential mid-to-late stage bookings, indicating strongly First Solar's post ITC plans and totalled around 13GW (DC), with Latin America and India being the largest regions.
Guidance
The company reiterated previous sales guidance of US$3.5 billion to us US$3.6 billion for the full-year 2015, with EPC and solar modules used in system projects to be in the range of 90% to 95% of the total revenue for the year.
However, First Solar raised its gross margin guidance to 24% to 25%, up from 21% to 22%. Operating expenses were also lowered slightly (US$10 million reduction) to US$395 million to US$405 million.
PV module ship guidance for the full-year was unchanged at 2.8GW to 2.9GW.