It is not the end game to be number 1, but show me a company that didn't strive for that mantle: one that didn't turn the marketing volume up to 10 when a respected third party organization published a top-10 list showing leading status?
In general, there is normally a better reason for being number 1 in an industry, over and above the accolades on offer for reaching pole position. Tactically, it's a marketing executive's dream. Strategically, the story is more that, once in a leading position, you should be able to control external market factors more to the benefit of your company. So, there is really no point in going bankrupt just to get to number 1, if that's the end point.
And with that humbling introduction now over, let's get down to examining the market share aspirations of the big-six module suppliers of 2015, the so-called Silicon Module Super League (SMSL).
The in-house versus third-party outsourcing debate continues
As part of the background research the PV-Tech team is doing ahead of our new PV Manufacturing & Technology Quarterly report, we are building up a new methodology to best understand the in-house/third-party production activities of the leading players in the PV industry today.
In so doing, it goes a long way to explaining much of the shipment targets and strategies of the big-six SMSL players (Canadian Solar, Hanwha Q-Cells, JA Solar, Jinko Solar, Trina Solar and Yingli Green). And in particular, how, at almost a drop of a hat, this group of companies has managed to move from 33% to 40% market share (in what's a rapidly expanding end-market) in just 2 years, without having to commit to anywhere near the upstream capex seen during the period 2006-2010.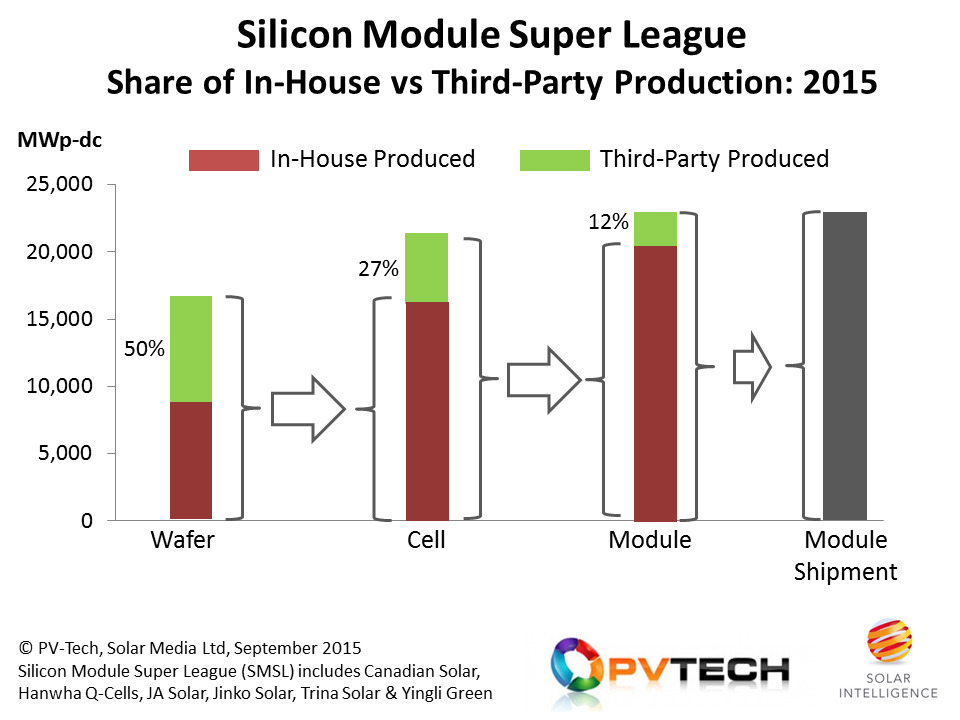 It is one of the factors that differentiates our big-six from all others – the ability to set a shipment target that is driven by the sales side (through a combination of external and internal delivery requirements), and is not limited by what is expected to come out of in-house cell or module capacity utilization rates.
Set a shipment target (that is effectively a sales goal) and then meet the demand through a careful balancing act of in-house and third-party supplied components. At least, that's the theory.
Using third-party components is also known as outsourcing, and is not new. However, this is probably the first time that it has been used so ruthlessly to gain market-share in a short period of time. As a tactic to distance from competitors that don't have the luxury of outsourcing (First Solar, SunPower, REC Solar, and many others), it is a particularly effective one to show quick results.
The figure above is a new way of looking at this in the PV industry today, and as a visual to explain this, it captures lots of things at once.
The best way to understand the graphic is to follow the bars, from right to left. Far right is the cumulative shipment target of the big-six of approximately 23GW. To meet this, 12% of the modules (about 2.6GW) are rebadged, with our big-six acting no differently here to a distributor.
Of the 88% of in-house produced modules, 27% will use c-Si cells made by outside companies (about 5.5GW). While this may look somewhat top-heavy, it is actually not a bad way of being able to ship, for example, a PERC module, without actually having to make a PERC cell. The combination of the outsourced cells and modules translates to 30% of shipped modules having cells made by third-parties (about 7GW). If anyone needed justification of pure-play cell production in Taiwan in 2015, or lifelines being made available to smaller cell makers in China, then this is surely one.
Of the 16GW of cells made by the big-six, about half use wafers produced in-house, but this is more of a secondary issue compared to the cell and module balancing act above.
Back to the shipment goal setting: you can see from the graphic that setting a shipment target well above in-house production figures is entirely feasible, so long as there is security of supply of external cells and modules. Then – of course – there is the thorny issue of how profitable this type of business is, and is the outsourcing having a potentially crippling effect on gross margins?
Looking for rational explanations
We started this blog with a somewhat stark appraisal of solar company shipment targets and whether it was all about being number 1.
If we look now at other reasons for setting aggressive shipment targets that are well above in-house production capabilities, then a few options come to mind quickly.
If the reason for the increased shipment is to feed in-house project pipelines (that have a separate and well-defined revenue stream), this could be justified.
Basically, if the ROI on in-house project development or asset ownership outweighs the gross margin hit from outsourcing (which is certainly ought to do), the strategy becomes blindingly obvious. It also begs the question about when, not if, companies like First Solar and SunPower need to eat some humble pie and decide which side of the manufacturing/energy-supply fence they sit on.
Add this to the fact that all our big-six SMSL players have GW level production capacities in China, and were part of the China investment boom in PV manufacturing over the past decade, and it could be argued that having high market-share in anything China end-market related is politically a must – be this module shipments, project development, etc.
Being the number 1 in solar module shipments has not always been the best place to be in the solar industry's chequered past. Whether a Trina Solar or Hanwha Q-Cells can now retain this position, while pursuing a viable and profitable long-term business model, is of course the sixty-four thousand dollar question we are all waiting to see.