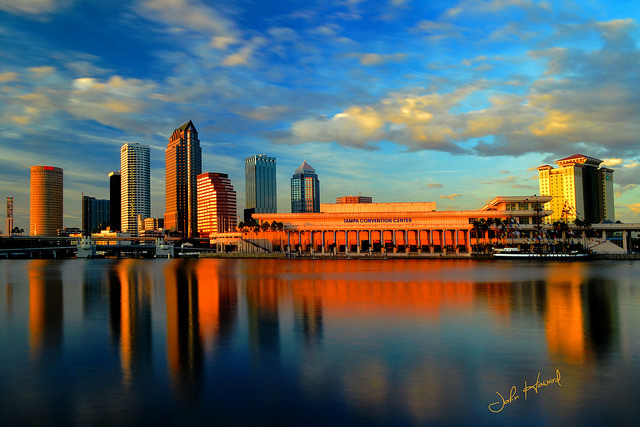 Yesterday, 73% of Florida voters approved Amendment 4, a ballot measure that now makes solar and renewable energy equipment on commercial buildings exempt from property taxes for 20 years, beginning in 2018.
The victory, passed by a wide margin, is a big win for solar in the Sunshine State and will help propel Florida as a leading state in the industry. According to the Solar Energy Industries Association (SEIA), Florida has the third-highest solar potential in the nation, but is only 14th in actual installed capacity. Until now, it has been hampered by utility-friendly solar policies and a lack of a renewable portfolio standard (RPS).
Once enacted by the state legislature, the constitutional amendment will be a big driver in lowering energy costs by reducing the tax burden that currently exists for solar equipment, according to the Amendment 4 website. Better economics for solar in Florida is set to pave the way for better solar development and a more sustainable energy future in the state.
"The Sunshine State is finally living up to its name. This vote sends a strong signal that Florida is open for business and the well-paying jobs and economic benefits that solar provides," said Sean Gallagher, vice president of state affairs at SEIA, in a statement. "Amendment 4 removes financial barriers to smart local investment. It's clear, Floridians want better access to affordable, clean energy options and this vote is a significant step in the right direction.
"Now it's time to keep the momentum going. To ensure a bright solar future for Florida, customers should vote NO on Amendment 1, the anti-solar amendment that will be on Florida ballots this November."
Now that Florida said #YesOn4, we must continue to fight for #solar in the Sunshine State by voting NO on Amendment 1 in November!

— Solar Industry (@SEIA) 31 August 2016
This tax exemption already follows a similar tax break for residential properties that was achieved in 2008. The newly-approved Amendment 4 could help crack a relatively stagnant commercial sector plagued by bottlenecks in customer acquisition; by potentially encouraging Fortune 500 companies such as Walmart and Target to add solar panels to their buildings, now that doing so is a more economically viable proposition.
70+% support for FL Amendment 4! AMAZING win for solar & Florida families, businesses & economy – https://t.co/vQG4FzVbEo #YesOn4

— votesolar (@votesolar) 31 August 2016
A broad and diverse coalition of solar advocates had rallied to support the amendment, which required a 60% yes vote to pass through for legislature approval. More than 150 endorsements, including the Florida Wildlife Federation, the Florida Chamber of Commerce and Floridians for Solar Energy, militantly campaigned to successfully earn the support of voters. Despite an anti-amendment campaign called Stop Playing Favourites registering as opposition of the amendment at the beginning of the month, the tax exemption was passed with minimal opposition votes. The opposition campaign argued that the amendment would cause the government to employ favouritism in handing out exemptions not available to everyone.
"I don't think we're picking favorites at all," said Senator Jeff Brandes, an amendment sponsor, in an interview with local press. "We're evening the playing field. People can still buy power on the grid. All we're saying is that we aren't going to penalize you for doing a good thing."
The overwhelming support for the #YesOn4 campaign could open the floodgates to solar deployment in Florida, as some industry commentators believe that the biggest barrier to solar energy remains embedded in the tax code.
Historical feat
According to a report from TampaBay, the #YesOn4 campaign was one of the most cost-effective referendums in Florida history, securing victory on funds totalling less than US$150,000, with supporters building networks and spreading support for the amendment on social media with the popular hashtag.
Whilst a significant step for solar in Florida, the vote must now be passed in a bill in the next legislative session in 2017 for it to take full effect. However, a further reaching amendment is on the cards for the November 8 ballot, known as Amendment 1, which has potential to prohibit the sale of solar to individual consumers and could cause a significant setback for solar progress in the state.
Today was a great day for #solar energy in the #SunshineState as Amendment 4 passes. Less taxes and more FL jobs #energyindependence

— Rep. Jose Felix Diaz (@josefelixdiaz) 31 August 2016