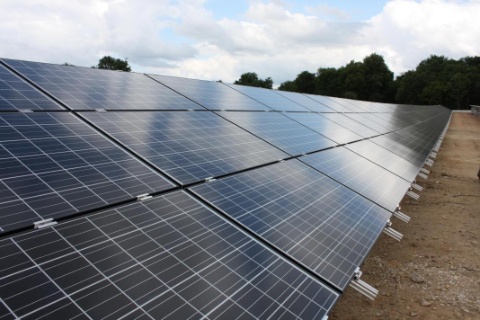 France is significantly increasing its annual target of solar tenders from 1.45GW to 2.45GW capacity, under plans announced by energy minister Nicolas Hulot.
The scheme to accelerate the procurement of solar PV comes hot off the heels of power giant EDF announcing plans to build 30GW of solar in France between 2020 and 2035.
The tender volume increases will be brought in gradually, with the next rooftop tender slated for March 2018, and the next ground-mount tender scheduled for June.
Hulot noted that competitive tenders so far have driven prices down, with the latest round seeing an average price of €63.9/MWh, which was 9% less than the previous tender four months earlier. Projects of between 5-17MW in July even saw prices as low as €55.5/MWh. Hulot added that the previous tenders had resulted in the allocation of around 1GW of ground-mount solar projects and 300MW of rooftop PV.
In related news, France will now pit solar against wind in an experimental 200MW tender to evaluate the competitiveness of the two technologies. Additional remuneration will be provided as support and the selection process will be based entirely on economic competitiveness. Projects must be between 5MW to 18MW in size. The submission of tenders is expected by 3 September 2018.
A list of 145 winners in the latest 51MW self-consumption tender has also been revealed. These projects will be able to feed excess electricity to the grid at a price of €0.079/kWh, which is down roughly 70% on the rate from the prior tender.
The geographical spread of project winners was as follows: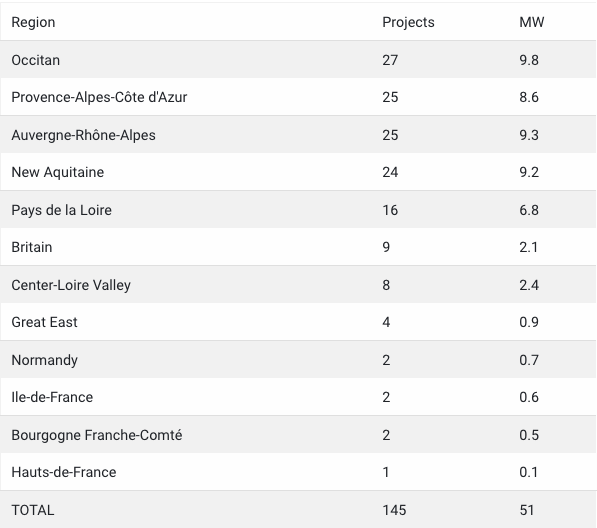 Hulot said: "The enthusiasm of the French to produce and consume their own electricity has become a major priority. This change in self-consumption is also explained by a sharp drop in costs."
France's overall three-year self-consumption plan is open to the industrial, tertiary and agricultural sectors, and is particularly aimed at shopping centres. It will see 150MW allocated each year in three separate tenders.
A map of the self-consumption distribution was also provided by the energy ministry:
France aims to hit 40% renewables by 2040 and it plans to invest €20 billion in its own energy transition plan to increase clean energy deployment by 70% over five years.