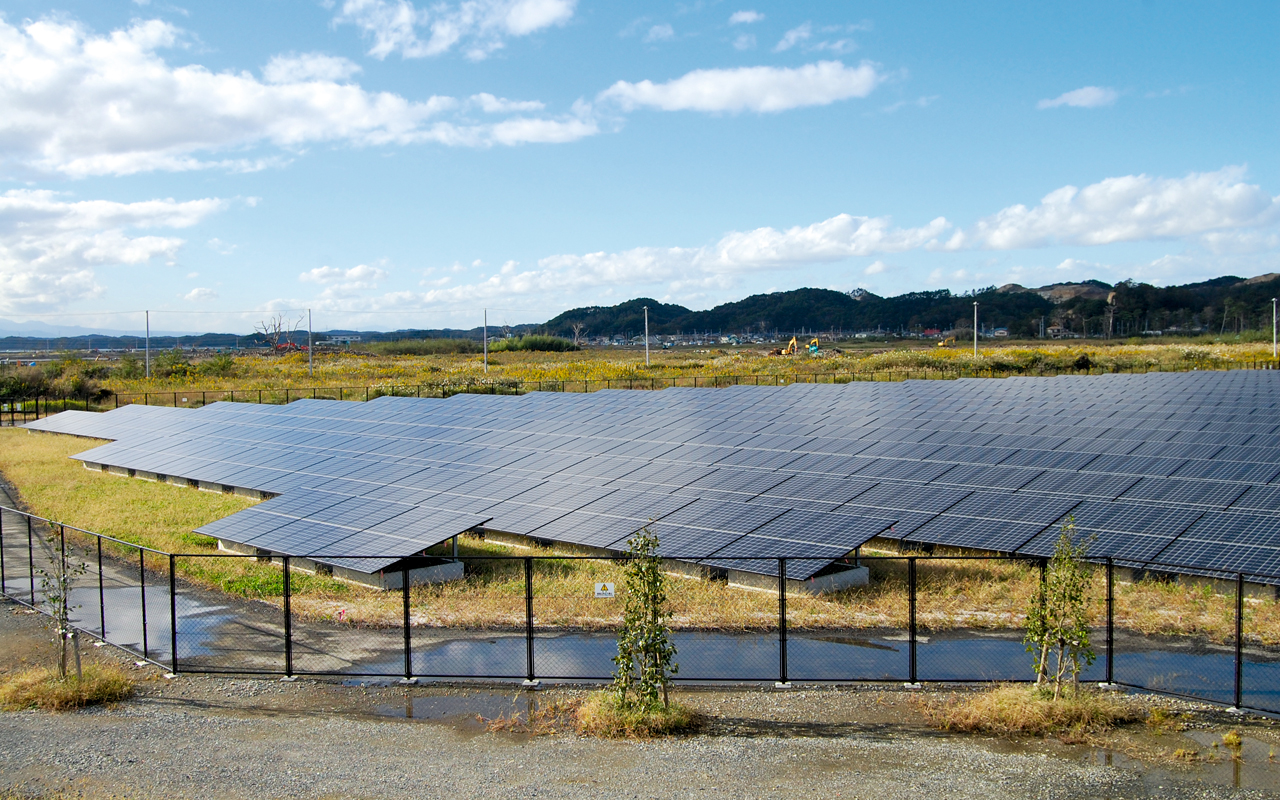 The Japanese prefecture of Fukushima and its surrounding regions are on an amibitous mission to become a world leader in renewable energy, according to a local writer.
Fukushima, hit by both the Great East Japan Earthquake in March 2011 and the ensuing nuclear accident at the Fukushima Daichi power plant has a target of sourcing 100% of its energy from renewables by 2040. This has included the development of numerous large-scale PV plants and various research projects.
Tsutomu Kuji approached PV Tech at the PV Expo show in Tokyo this morning. Kuji, a writer from neighbouring Iwate Prefecture, has travelled extensively in Fukushima, Iwate and Sendai speaking with the local population and researching efforts at local government level as well as examining the various efforts of businesses to raise the profile – and deployment – of renewables in the area.
"After the earthquake, I travelled to the three prefectures, to see the impact of the tragedy on the area. During this time, Fukushima in particular began efforts to become a world leader in renewable energy. All kinds of people and organisations are working extremely hard to make this a reality. Businesses, NGOs, local dignitaries," Kuji said.
International efforts
As a result, an international industry conference and exhibition is hosted in Fukushima each autumn. Kuji claimed that the last edition was attended by around 6,000 people, with 400 companies and representatives from at least 10 different countries. Kuji said that this international cooperation was important to those efforts.
"Germany has probably the closest relationship with the area now, but also Norway, England, China, India," Kuji said.
"That kind of international exchange and cooperation has thrived, to show how their regions have deployed renewables and so on. Not just the problems particular to Fukushima, but all sorts of related topics and questions relating to renewables."
Kuji said that he personally was interested in two particular aspects of the region's efforts – the use of a combination of different renewable sources, including solar, wind and biomass to help reach that ambitious target, and was also concerned that renewables would be installed across the region with minimal environmental impact.
On the first point, there has definitely been a recognition in Japan, as previously reported by this publication, that while the ramping up of solar deployment has been a huge success, this has come at the expense of other renewable technologies.
On the second, Kuji used the example of a PV materials recycling firm he is affiliated with, to show that there are steps being taken in this direction. Kankyo Hozen Service, led by a materials industry veteran who has received national environmental awards for his work in the field, can recycle the majority of materials in PV from silver to backsheets to glass.
"I'm interested in clean energy that has as little environmental impact as possible. I'm here introducing a Japanese company recycling or reusing PV materials, either as PV materials or using glass or other materials for other applications, Kuji said.
"I realise it isn't comparable to nuclear in environmental impact but we'd still like to see renewables have a minimal an environmental impact as possible, especially at the end of their lifetimes. That's my opinion personally."
Also in recognition of this fact, European non-profit PV Cycle is also launching its services in Japan this year and was presenting them at the PV Expo show this week.
Finally, on the topic of nuclear energy, Kuji said there is still widespread scepticism, if not outright opposition in Fukushima and those surrounding regions. In spite of this, and the fact that it has already led to complications at one power plant in the Kansai region of south west Japan, the government's plan to reactivate nuclear power stations shut down since the March 2011 disaster is pushing ahead despite what appears to be serious public antipathy.