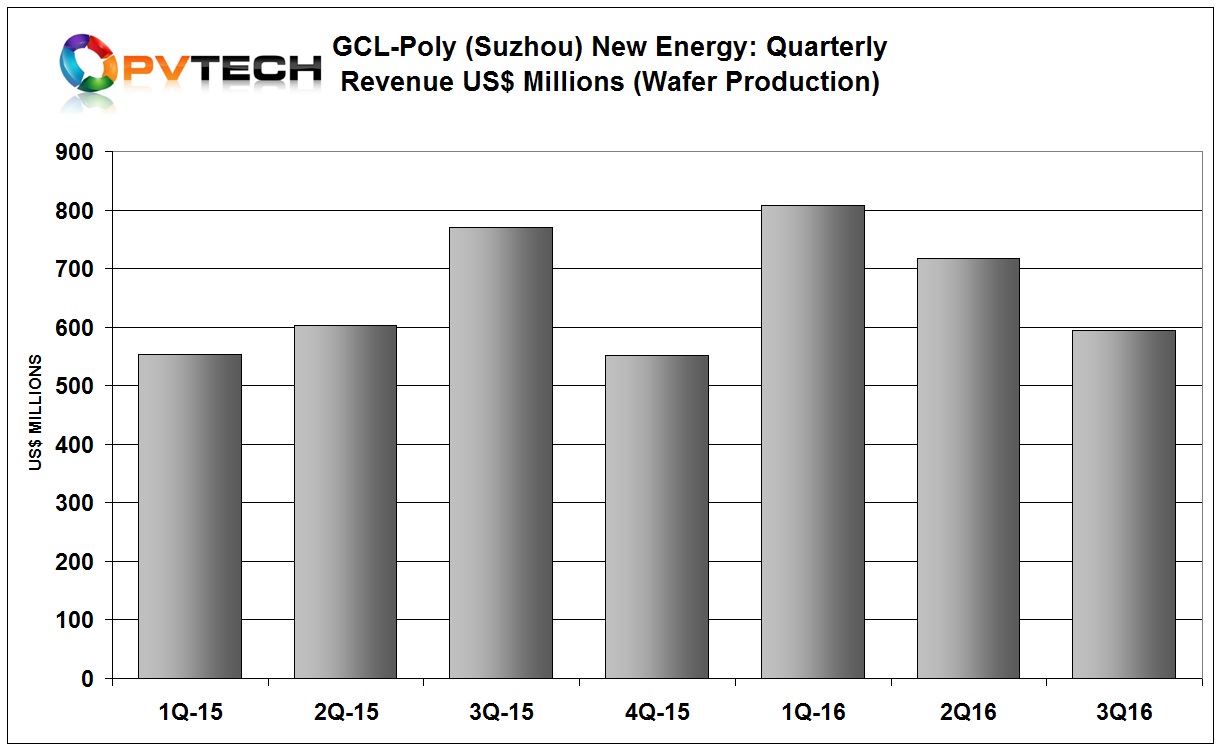 Leading polysilicon and multicrystalline wafer producer GCL-Poly Energy Holdings dedicated wafer production subsidiary, GCL-Poly (Suzhou) New Energy has reported a continued decline in quarterly revenue, representing the weak demand in China and ASP declines on overcapacity across the solar industry supply chain.
GCL-Poly Suzhou reported revenue in the third quarter of 2016 of around US$595 million, down 6.5% from the prior year period and down 17.2% from the previous quarter with revenue of around US$718 million.
Revenue peaked in the first quarter of 2016, reaching around US$808.2 million on strong downstream demand in China, which installed around 22GW in the first half of the year.
However, the subsidiary reported a net profit for the quarter of around US$154.6 million, compared to a net loss of around US$9.8 million in the prior year period.
Parent company, GCL-Poly had previously reported a strong increase in wafer volume sales and an increase in wafer ASP's in the first half of 2016.
GCL-Poly Suzhou's wafer sales had been in the range of 8,880MW in the first half of 2016.
The Group's annual wafer production capacity had increased to 17GW including 16GW for multicrystalline silicon wafer production and 1GW for monocrystalline silicon wafer production at the end of the first half of 2016.
GCL-Poly Suzhou is not publicly listed but previously raised bonds via its parent on the Hong Kong Stock Exchange and due to rules is required to issue certain financial statements on a quarterly and interim basis. GCL-Poly has yet to release third quarter results.
Recently, 'Silicon Module Super League' (SMSL) member GCL System Integrated Technology (GCL-SI) a publicly listed subsidiary of GCL Group had reported unaudited third quarter revenue of around US$390 million, compared to around US$561 million in the previous quarter, a 30.5% quarter-on-quarter reduction.
GCL-SI secures its wafer supply from GCL-Poly's subsidiary, GCL-Poly Suzhou.